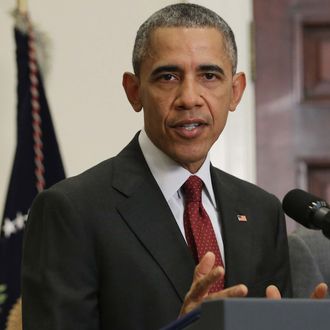 Kick back, America. This is your day.
Photo: Chip Somodevilla/Getty Images
The only specific and credible threat to the homeland this weekend is too much delicious food. That's the main takeaway from the brief national security update President Obama delivered Wednesday.
"Right now, we know of no specific and credible intelligence indicating a plot on the homeland," the president said from the White House's Roosevelt Room, shortly after concluding a routine security briefing with Secretary of Homeland Security Jeh Johnson, FBI director James Comey, and Attorney General Loretta Lynch. "As we are going into Thanksgiving weekend, I want the American people to know that we are taking every possible step to keep our homeland safe."
Those words of reassurance came less than two weeks after jihadist militants murdered 130 people in the middle of Paris. In the wake of the attacks, major American cities have increased their security measures, and on Monday, the State Department issued a worldwide alert to Americans traveling abroad.
But at least domestically, there is officially no cause for terror unless you're a turkey. Less than three hours after assuaging the fears of human Americans, the president will reappear to ritualistically spare a single avian American from certain death. At 2:45 this afternoon, Obama will perform the bizarre tradition of officially pardoning one turkey, as selected by the American people over Twitter.  
That may be cold comfort for the hordes of other turkeys destined for ovens this Thanksgiving. But at least Obama told them they have the right to stand their ground.