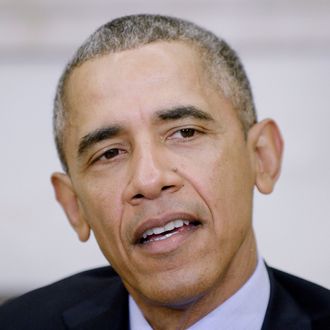 "You've got to be looking downfield."
Photo: Olivier Douliery-Pool/Getty Images
Bill Simmons, technically a free agent as a writer since leaving ESPN, interviewed President Obama for GQ's Men of the Year issue, for a cover story published today. As you might imagine, the two talk plenty about sports: At one point, for instance, Obama compared himself to Packers quarterback Aaron Rodgers, to make the point that he's got a good temperament. Said Obama in response to Simmons's suggestion that he's like Spurs coach Gregg Popovich in that way: "Or maybe [Aaron] Rodgers in the pocket, in the sense of you can't be distracted by what's around you, you've got to be looking downfield. And I think that's a quality that I have—not getting flustered in what's around me."
The wide-ranging interview — which took place on October 5, just five days into Simmons's post-ESPN career — touched on a number of other subjects, including Simmons's absence from Grantland, which at the time of the interview was still running, but without its founder. "It's really aggravating not having you on Grantland," said Obama. "I go to the site and there's no Simmons. Come on, man, it's not the same."
It's the second time Simmons has interviewed Obama — the president appeared on Simmons's ESPN podcast in 2012 — and given their shared love of basketball, it should come as no surprise that NBA references were sprinkled throughout. Here's one section about what Obama has learned from watching old Bulls games at the gym:
But a thing that you're reminded of, watching those old Bulls games, is Jordan had some stinker games in the playoffs. But he would get that out of his mind, and then the next moment comes and he's right there. He could have a terrible game for the first three quarters and then suddenly go crazy the fourth. Or he might miss a free throw, and then the next play is he's stealing the ball and hitting the game-winning shot. Part of what I try to do—not at the level that Jordan did on the basketball court, but part of what you aspire to as president or any of these positions of leadership—is to try to figure out how to be in the moment, make the best decision you can, know that you're going to get a bunch of them right, but a bunch of times you're also not going to get it exactly the way you want it.
Other topics included Donald Trump ("I would've enjoyed campaigning against Trump. That would've been fun"), whether Obama would want to be a Supreme Court justice (nope), and whether he'd like to own an NBA team (yep). They also talked about how social media has changed the job of president, what it's like to have teenage daughters, and Obama's response to Ferguson.
At one point, Simmons asked Obama about NFL commissioner Roger Goodell, of whom Simmons has been a vocal critic. (Simmons has said he believes the NFL played a role in his ouster from ESPN.) But Obama wasn't letting Simmons take him too far down that line of questioning: "You're not going to drag me into your fights, man. Come on—I've got enough fights of my own. [laughs] This is between you and Roger."