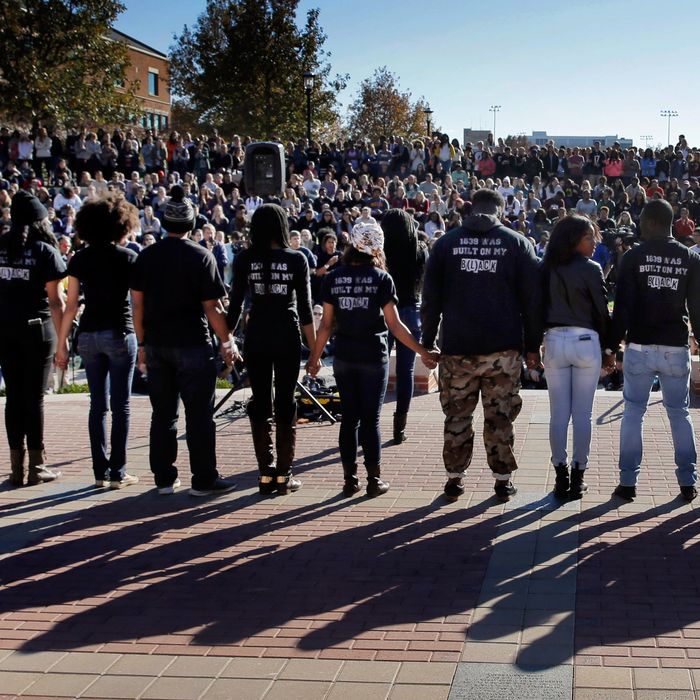 Members of black student protest group Concerned Student 1950 hold hands following the announcement that University of Missouri System President Tim Wolfe would resign Monday.
Photo: Jeff Roberson/AP/Corbis
Three Missouri men have been arrested for making terrorist threats on the social-media app Yik Yak this week, amid widespread reports of racially motivated harassment related to recent events at the University of Missouri.
On Tuesday night, University of Missouri students, probably already overwhelmed by all the upheaval and change this week, were checking social media when threats started trickling into their feeds. One post on Yik Yak said, "I'm going to stand my ground tomorrow and shoot every black person I see." Another read, "Some of you are alright. Don't go to campus tomorrow."
The posts were spread on other social-media platforms and quickly went national. Earlier in the day, someone threatened the Black Culture Center by telephone, and a man was seen shouting at students by the library. Additional officers were dispatched to the campus. As worries began to percolate, the university tweeted, "There is no immediate threat to campus. Please do not spread rumors."
Around 6 a.m. on Wednesday, the university announced that it had arrested a suspect — who was not on campus or anywhere nearby — for allegedly sending the online threats. The person reportedly used "multiple accounts" to send the threats. Yik Yak is an anonymous platform, but the company has helped the authorities track down users after suspected criminal activity. 
According to a statement later released by campus police, the suspect, 19-year-old Hunter Park, was arrested in Rolla, Missouri, for "making a terrorist threat" against black students at Mizzou. Park, whom court documents described as having a "deep interest" in the mass shooting that left ten dead at Umpqua Community College in Oregon last month, was denied bail on Thursday, on account of being a threat to the community.
One of Park's threatening messages included a quote from the Umpqua shooter, Chris Harper-Mercer. He could spend up to seven years in prison if convicted.
In a separate incident, Northwest Missouri State University freshman Connor Stottlemyre was charged with two counts of making a terrorist threat on Thursday, also for posting hostile messages on Yik Yak. In one message, he expressed a desire to "shoot up" his dormitory, while another read: "I'm gonna shoot any black ppl tomorrow so be ready."
A third man, Tyler Bradenberg, has also been arrested for posting "I'm gonna shoot up this school" on Yik Yak on Wednesday. The threat was apparently directed at the Missouri University of Science and Technology, where Bradenberg had studied for a semester.
Park is also a student at that university, but his threats were targeted at the University of Missouri campus in Columbia. There are no signs that the two men's online threats were connected. Bradenberg's father told the St. Louis Post-Dispatch that his son "just texted something in a split second without thinking of what he is doing, and he deleted it immediately."
The president of Mizzou and a campus chancellor both resigned this week after students and faculty protested what they saw as the administration's flawed response to racism on campus. A day later, a communications professor apologized after blocking reporters from covering the protest, then resigned from her courtesy appointment. 
Meanwhile, the school's remaining leaders are trying to figure out how to solve some of the school's deep-rooted problems. Associate Dean Chuck Henson, a black law professor at Mizzou, has been appointed the first interim vice-chancellor for inclusion, diversity, and equity. The school has also announced a plan to start recruiting — and retaining — diverse faculty and staff. 
This post has been updated to reflect the two additional arrests and Hunter Park's court appearance.