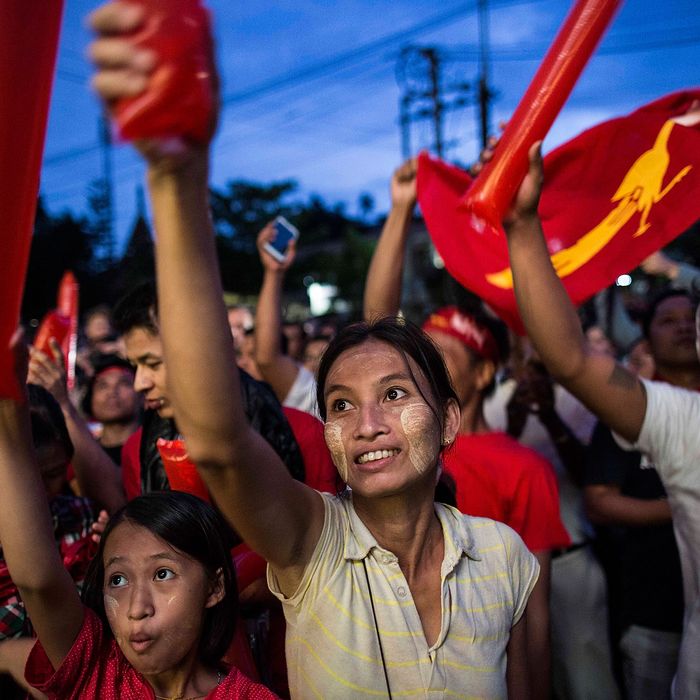 An election-day political rally outside the NLD opposition party's office.
Photo: Lam Yik Fei/Getty Images
The party of opposition leader and nobel peace laureate Aung San Suu Kyi seems likely to win a majority of the votes cast in Myanmar's first free general election in 25 years, Reuters is reporting. Sunday's closely-monitored vote seems to have gone smoothly, and according to news reports most voters seemed greatly enthusiastic about the process, which is considered a crucial step in the country's five-year-old transition from military dictatorship to something resembling a democracy. The final tally is still days away, but early results show that the opposition party is leading. Some 32 million people registered to vote.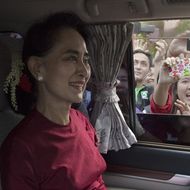 Regardless of the results, however, the vote will hardly be fully representative. As the New York Times points out, hundreds of thousands of Muslims were removed from voter rolls in advance of the election, yet another demonstration of the country's routine oppression of Muslims and other minorities. In addition, it's impossible to predict how the nation's military leaders will respond to the results of the election. Myanmar's military-written constitution stipulates that a significant amount of power is retained by the military no matter what, including a guaranteed percentage of unelected seats in parliament, meaning Suu Kyi's opposition party must win 2/3 of the vote to obtain a majority. The military has also prohibited anyone from becoming president if they are married to a foreigner or have foreign-born children, both of which apply to Suu Kyi. She has in turn pledged to run the country from above the president, if necessary, provided her party wins the majority.
It's also worth noting that Suu Kyi won the last free election in 1990, only to have the result ignored by the ruling junta, and to subsequently spend the next 20 years under house arrest. Military officials have vowed that won't happen again this time. Either way, the military still controls a massive stake in the country's economy, runs the police, army, and borders, and maintains the right to re-take over the government under certain circumstances — so Myanmar's path to full democracy remains long and fraught.