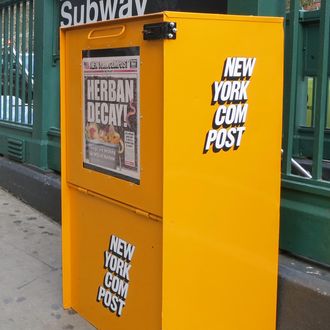 Photo: New York Compost Box Project
Print journalism, is — by all accounts — dying. According to a Pew study, over 100 dead-tree journalism operations were cut down in 2014 alone, victims of changing reading habits and rapid advertising declines. Just in the past year the Daily News wasn't able to sell and who knows what will happen with the new owner of the Village Voice.

And so the question then becomes, What are we going to do with all the newspaper boxes crowding the sidewalk? They certainly make it harder to walk down the street while staring into your iPhone.
Enter: The New York Compost. Food makes up for one third of New York's waste stream and these street corner mulch solutions are intended to divert food away from landfills and toward a distributed network of small compost bins situated in former paper boxes.
Composting is popular, even required, in other cities— and some people argue is even fun— but has had some problems getting going in New York City. This might make it easier.

Take a second to imagine that you're out for a walk on a crisp fall morning. You stop to wait for the light and take a deep breath; except, you're not smelling leaves, you're smelling the loamy scent of a bygone era of stable jobs and predictable production schedules.

The project is the brainchild of Debbie Ullman, a former tabloid graphic designer. She noticed an opportunity in the intersect between growing food waste and a decline in circulation. So far the pilot program has placed two boxes in Manhattan and one on Governors Island with plans for more in the future.