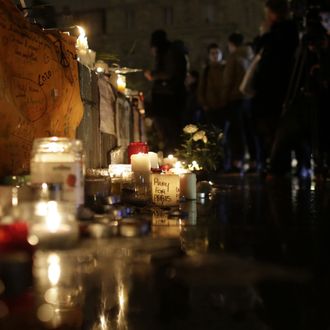 People light candles and place flowers at a makeshift memorial for the victims of a series of deadly attacks in Paris, at the Place de la Republique.
Photo: KENZO TRIBOUILLARD/AFP/Getty Images
On Friday, French Prime Minister Manuel Valls announced that a person injured in last week's Paris attacks has died, bringing the death toll to 130. He gave the news during a speech to the French Senate before it voted to extend the country's state of emergency for three more months. 
The person's name and circumstances of their death have not been released. As of Wednesday, nearly 200 victims were still being hospitalized, 41 with life-threatening injuries, according to ABC News.
Another death has also been tallied in the St.-Denis police-raid investigation. Paris attack planner Abdelhamid Abaaoud and his cousin Hasna Aitboulahcen were already confirmed dead. A third body was found in the rubble. It has not been identified, but the authorities have started to think that this third person was the person who blew themselves up, and not Aitboulahcen.
Reuters reported on Friday that French police were able to locate Abaaoud after tapping Aitboulahcen's phone for a separate drug investigation. Law enforcement was watching the house on Wednesday morning, and watched the cousins walk in. Soon after, the seven-hour raid — complete with "drones, robots, assault rifles, and grenades," according to the New York Times — began.
Salah Abdeslam, the Paris attacker whose brother blew himself up at a cafe, is still on the loose, and the target of an international manhunt. 
EU interior ministers also held an emergency meeting to discuss border controls and intelligence sharing. Several of the attackers "passed through Greece" or made it into Europe using a fake passport; Abdeslam reportedly managed to flee to Belgium undeterred after the attacks, even after being stopped at the border for checks. The ministers agreed on Friday that external border controls should be tightened in the 26-country Schengen zone — which was designed to make it easier for residents to travel between certain countries in the eurozone without visas. The ministers also decided it was a good idea to start sharing information about airline passengers. The European Commission will have to consider these changes before they can be implemented, according to Politico.