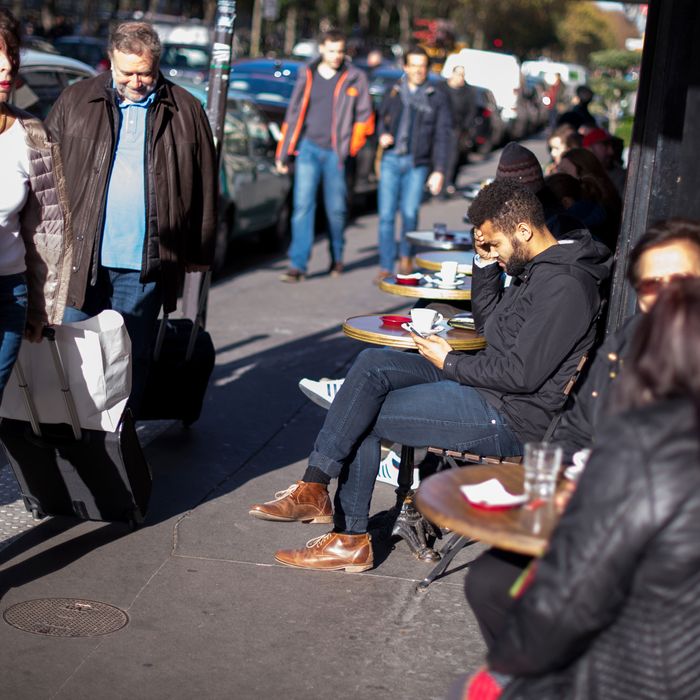 Photo: Marius Becker/dpa/Corbis
On Boulevard Voltaire, the Bataclan concert hall sits lonely and lifeless, the streets around it still taped off, nearby cafés shuttered. "Fermeture indeterminé," their hastily made signs advise. Closed until further notice.
But a few streets away, Rue Oberkampf bustles with energy. Parisians are out in full force — filling terrace tables, lining up for bread at their local boulangeries. On the surface, it's a day like any other, except there are far more people out than normal. One can barely walk down the street or find a free table at a café. It's as if everyone has a compulsion to be with other Parisians, a determination to carry on with life as usual.
Walking around the 11th arrondissement today, you'd almost never know that just a few short days ago, a band of terrorists cut a bloody path through the city, hitting the heart of this young and popular neighborhood. Life goes on now with a vengeance.
While Hollande declares war on the Islamic State, launching massive air strikes on their stronghold in Syria, Parisians are waging a war of their own, one as personal as the attacks themselves. And they are doing it by just living their lives.
La terrasse, or sidewalk café, is synonymous with Paris. Unlike New York, where sidewalk tables are for dining only, in Paris you can sit at a terrace table and just sip a glass of wine, watch the world go by for hours. The life flaneur is cherished here — taking the day in long strides. And it's precisely this life, and the terraces of Paris, that were attacked on Friday.
"#JeSuisenTerrasse" has emerged as a popular social-media meme — in the vein of the #JeSuisCharlie campaign. But this time, it's more than a show of solidarity; it's a big middle finger to those who would dare think they could kill the spirit of the city. People are filling terrace tables around town, tweeting defiant selfies with the hashtag #OccupyTerrasse, reclaiming their city by simply sitting down outside Aux Deux Amis or Café Charlot with friends for a drink.
At the growing memorial in Place de la Republique, where Parisians have been gathering day and night since Saturday, the French flag hangs on the statue of Marianne, France's symbol of liberty and reason. On it, this message: "You can kill one of us, 100 of us, 65 million of us. You will never kill the soul of France." Another smaller sign nearby states more simply, "Même pas peur," an expression children say when given a dare: I am not a bit afraid. 
Watching this as an expat New Yorker has been both inspiring and mystifying. Myself, I'm still paralyzed by fear and grief. It seems impossible, almost disrespectful, for things to feel normal again so soon. I remember how, in the days after the 9/11, we lumbered like zombies.
This attack hit close to home. La Belle Equipe, where 19 people were killed, is just up the street from my best friend's apartment. I've sat at that terrace sipping wine, much like victim Houda Saadi, who had been celebrating her birthday when a madman opened fire. Le Petit Cambodge, the little hipster joint targeted in the 10th, was where I'd taken my sister for lunch when she'd visited in August. We sat at the table by the window now shattered by bullets. And a little more than an hour before the attack on the Bataclan, I'd walked past the crowd lining up outside, waiting to enter, oblivious.
This could have happened to any one of us. These are our hangouts; this is our neighborhood. It could have been me, and I can't get past that. Not yet.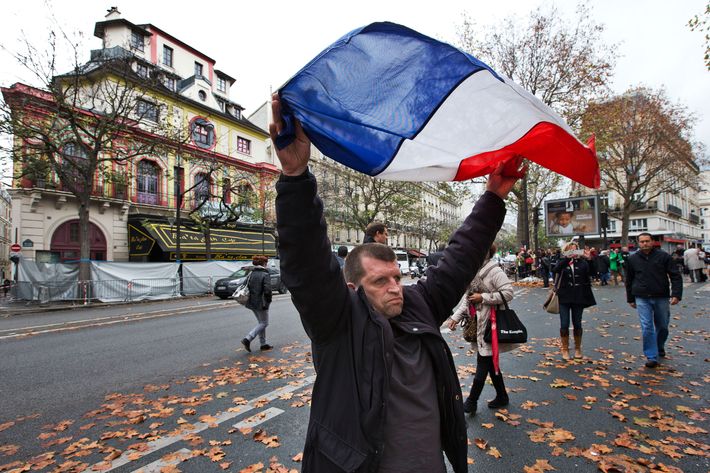 The extreme nature of the attacks has underscored what feels like a basic difference between Americans and French. I have never felt more alone in Paris than during these last few days. While I was sobbing at the memorial outside Le Petit Cambodge, my Parisian neighbors were silent, resolute. I ached for some sign of emotion, something I could relate to, and while I have seen this in a few people, the collective citizenry is looking straight ahead, carrying on.
Americans tend to express emotion liberally. We are constantly steeped in melodrama — from reality TV to the newsfeeds we read, gorging ourselves on a steady diet of fear and pain, news networks stirring up our emotions on a daily basis.
The French will not have this. Reason far outweighs emotion in the City of Light. Of all the coverage of the attacks, only the French reports have been levelheaded, conservatively reporting death tolls, waiting for corroboration before posting updates. Meanwhile, U.S. and British sources would have you believe we are in a war zone. "Paris Under Attack" blazed a logo on an American news show. This is our usual outsize reaction to world events. And it renders us impotent.
The French have the same fears, concerns, sadness — but these feelings are a normal part of life. Tant pis, get over it. This wide-eyed American optimist, for whom Paris was a dream, a place of joy and rebirth, has been devastated by these attacks. Parisians, who have a long history of invasions built into their DNA, dig in their heels and resist. Aux armes, citoyens. Paris will go on.
"We stay a free spirit," a Parisian friend told me, calmly. "We will tell the terrorists that our love and freedom are stronger than their barbarism."