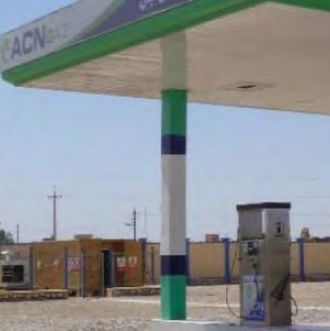 Photo: Central Asia Development Group via SIGAR
Only a few months after the Pentagon admitted that it spent $500 million training "four or five" Syrian rebels, Defense Department officials have now had to 'fess up to spending $43 million on a gas station in Afghanistan that may or may not be functional and should have definitely cost less than $500,000. 
Senator Claire McCaskill wrote a letter to the Defense Department after reading about the expensive project in a watchdog report from the special inspector general for Afghan reconstruction. "There are few things in this job that literally make my jaw drop," it began, before adding that "this genuinely shocked me. … It's hard to imagine a more outrageous waste of money than building an alternative fuel station in a war-torn country that costs 8,000 percent more than it should, and is too dangerous for a watchdog to verify whether it is even operational."
The special inspector general in charge of the report said to NBC News, in case the above insults weren't damning enough, "This is one of the worst examples of poor planning and just sheer stupidity. It's outrageous."
Principal Deputy Under Secretary of Defense for Policy Brian McKeon told NBC News he wasn't qualified to say whether the useless gas station was a bad thing or a good thing: "On the face of it that sounds like something might not have been done most efficiently but I don't have the business expertise or knowledge on this project to tell you that it was done right or wrong."
The task force in charge of the gas station shut down earlier this year, so the Pentagon has been unable to answer anyone's questions about it.