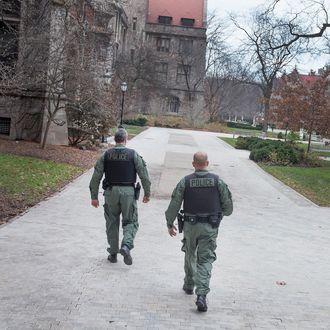 Members of the Chicago Police Department SWAT team patrol the Quad.
Photo: Scott Olson/Getty Images
On Monday morning, there were few people wandering around outside on the University of Chicago's campus; all classes had been canceled and students were warned to stay indoors after a specific online threat related to gun violence had been found by authorities.
Later in the day, the FBI announced that a suspect — a student at the nearby University of Illinois at Chicago, who lived off-campus — was in custody, and charges were pending. According to the Chicago Tribune, the suspect left a comment at worldstarhiphop.com saying that they planned to "execute approximately 16 white male students and or staff," which the suspect notes is allegedly the same number of times police officer Jason Van Dyke shot 17-year-old Laquan McDonald in 2014. Last week, Chicago authorities released dashcam footage of McDonald being shot, which led to large protests in the city. The FBI found the threat "credible enough" for the school to take action. When law enforcement searched the suspect's home, they found no guns, according to the Chicago Sun-Times.
The online threat said that the shooting would take place at 10 a.m. on the campus quad. Police were stationed all around the area at that time, but nothing happened. As the Washington Post notes, several other incidents involving gun threats happened at schools in California and Ohio.