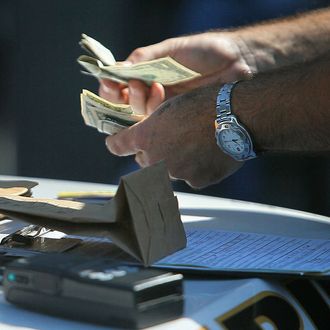 How much you got there?
Photo: Lannis Waters/The Palm Beach Post/ZUMAPRESS/Corbis
Law enforcement is taking more property from suspected wrongdoers than ever, and at a rapidly increasing rate, according to a report by the Institute for Justice titled "Policing for Profit." Since 2008, the Justice Department and U.S. Treasury have tripled their civil-forfeitures accounts, hitting $4.5 billion in seized assets, up from $1.5 billion.
Under civil-forfeiture laws, the government can seize property without charges, convictions, or a judge's ruling, but merely based on suspicion. Many critics find this practice itself suspicious.
Accounts of abuse are widespread, as a law intended to sting big-time criminals has developed into a major revenue source for sometimes-cash-strapped police, often with little oversight or record-keeping.
Police departments in a majority of states are free to directly pocket money and property obtained in any police encounter, be it a roadside stop or a drug raid. These assets, depending on state law, either go toward general revenue or directly into the pockets of the police conducting the seizures. It fuels purchases of new gear and vehicles or can be diverted to cover overtime pay. This is helpful when tax revenues aren't increasing. "The years 2008 to 2014 were some lean economic years," said report co-author Dick Carpenter in an interview. "Forfeiture is an attractive way to keep revenue streams flowing when budgets are tight."
"All of our home towns are sitting on a tax-liberating gold mine," one police deputy wrote in a self-published book several years back. His rallying cry to turn local police departments into "present day Robin Hoods" looks less honorable in light of Carpenter's data revealing that the average forfeiture amount is only a few hundred dollars, usually petty cash taken from the city's most vulnerable residents.  
In New York, the average seizure is roughly $500, but almost 40 percent of every forfeiture in the city is under $250, according to a report on WNYC that documented the case of Harold Stanley. He had $1,300 in his pocket when the police stopped him outside of a McDonald's in the Bronx. Stanley was taken in under suspicion of drug possession. He was released a few hours later, and his charges were ultimately dropped. But his $1,300, intended for rent, stayed with the NYPD.
Although a local case, Stanley's situation lines up with 87 percent of forfeitures that were civil, not criminal, due to dismissed charges. "It's troubling that 87% of the time the conviction appears to be irrelevant," said Lisa Knepper, co-author of the IOJ report. 
Manhattan hauled in more than $18 million thanks to a mix of federal and local civil forfeitures in 2014. There's no way to say who, why, or where the money came from. Questions of who the practice affects most are virtually unknown, as age, race, and demographics data aren't required to be collected by police. Dismissing criminal charges is a further effective means of obscuring this information.
One city lawmaker is introducing a measure this week to bring forfeiture into the sunlight. Councilman Ritchie Torres, representing East Bronx, an area many feel disproportionately suffers from civil forfeiture, is introducing a bill requiring the NYPD to disclose forfeiture data.
There have been some attempts to rein in this practice already: Earlier this year, the outgoing attorney general Eric Holder prohibited Equitable Sharing, a program that allowed local police departments to use federal law to seize cash and other assets in the name of justice without producing evidence first.