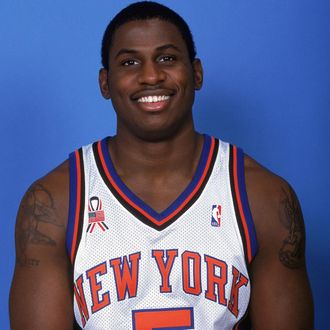 Michael Wright.
Photo: Michael Lebrecht/NBAE/Getty Images
The death of Michael Wright, the former Knicks draft pick found covered in garbage bags in an SUV in Brooklyn on Tuesday, is being investigated as a homicide, according to multiple reports. Police initially believed Wright had committed suicide, but sources tell DNAinfo that detectives determined he had a head wound that likely came from a blow to the head.
Wright, 35, was found lying on the backseat inside his Lexus SUV on Tuesday in Midwood with black garbage bags covering his body. The car had reportedly been in its spot at East 16th Street and Avenue I since Sunday. Wright lived in New Jersey but reportedly had friends in Brooklyn, and police are trying to speak with them and track his final movements. Police are also investigating whether he was killed by someone he met on Grindr, which was open on his phone, according to DNAinfo's sources.
Wright played at the University of Arizona and was drafted in the second round (38th overall) by the Knicks in 2001. He never played a regular-season game in the NBA, however, and instead took his career to leagues in Europe. Wright's cousin Randolph Berry told the Chicago Sun-Times that Wright had left his French team in February and was planning to go back to Europe to play. Said Berry: "The last time I talked to him he thought he had two more years left. He wasn't planning on retiring."