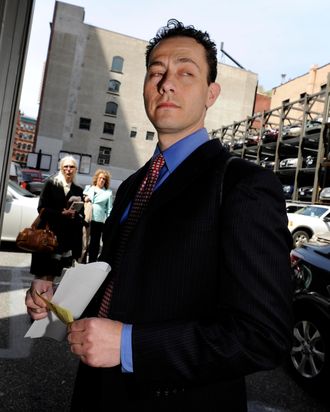 Rod Covlin.
Photo: Steven Hirsch/Splash News
Three NYPD detectives arrested Roderick Covlin on Sunday for allegedly murdering his estranged wife in 2009. He had long been the suspect. Shele Danishefsky Covlin was found dead one day before she planned to cut her husband out of her will.
Covlin was apprehended at the Scarsdale Metro North station Sunday afternoon, in connection with the 2009 strangling of his late wife, the New York Daily News reports.
For more than five years, police were unable to come up with enough evidence to charge him, even as he assumed custody of his wife's children and sought control of her multi-million-dollar estate.
On January 1, 2009, Covlin was set to meet with her estate planner. The 47-year-old UBS vice-president wanted to revise a will she'd drafted years earlier, which bestowed most of her $1.5 million estate to a man described in reports as an unemployed backgammon player she was in the process of divorcing. But the day before the appointment, her 9-year-old daughter Anna woke to find her mother lying dead in the bathtub of their Upper West Side apartment.
Initially, police believed the death was caused by a fatal fall. Colvin's parents chose to forgo an autopsy and bury their daughter as quickly as possible, in accordance with Orthodox Jewish tradition. But suspicion eventually overwhelmed religious conviction — just one month before her death, Colvin had obtained a protection order against her husband and told several friends that she was afraid for her life. When her parents agreed to have her body exhumed and examined in 2010, the autopsy revealed that she had been strangled to death. In the days immediately after his wife's death, Roderick Colvin tried and failed to convince his ex-wife's parents that she had wanted to be buried an Israel — a wish that might have prevented the autopsy from ever being conducted.
In 2011, the New York County public administrator, which oversees estates, sought to bar him from accessing his wife's inheritance by suing him for her murder in civil court. One month later, a Westchester County judge suspended his control of his wife's $1.6 million life-insurance payout.
Sunday's arrest came as a long-awaited relief for the parents of the victim, both of whom are battling long-term illnesses, the Daily News reports.
"This is what they've been hoping for," Danishefsky family friend Marilyn Chinitz told the paper. "This is what they've been living for."