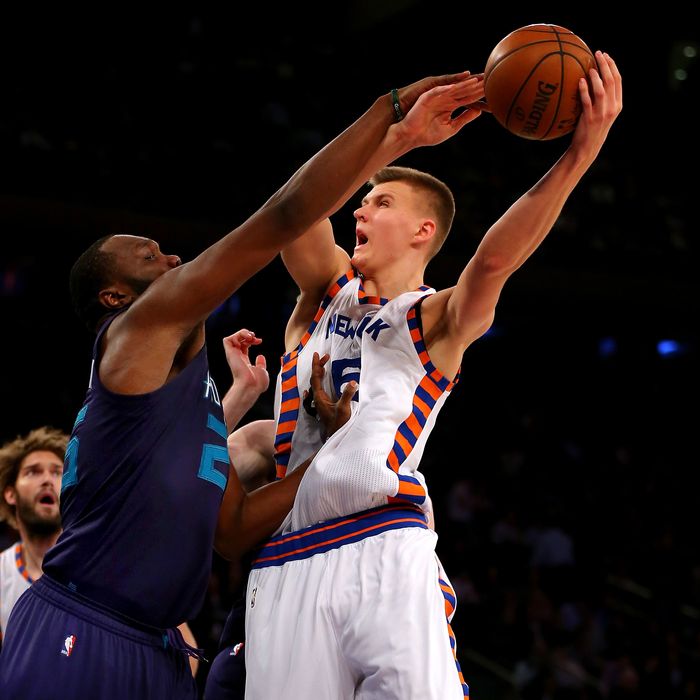 Kristaps Porzingis is already a fan favorite at the Garden.
Photo: Elsa/Getty Images
When the Knicks drafted Kristaps Porzingis in June, many believed that the best-case scenario was that the seven-foot-three Latvian was a project who could eventually become a key contributor in a couple of years. And those who feared the worst-case scenario — that he'd be another draft bust — were critical of team president Phil Jackson's pick altogether. Indeed, in the grand tradition of New York draft crowds, Porzingis was booed when his name was announced. But less than a month into the season, and after his best game yet last night, it's apparent that Porzingis is way ahead of schedule.
Porzingis, who's started every game so far, dropped a season-high 29 points on the Hornets last night, and added 11 rebounds for his fifth double-double of the year in a 102-94 Knicks win. With Charlotte's Jeremy Lin — the last Garden hoops sensation — watching, the crowd chanted "Por-zing-is" and "MVP," and the rookie had to pause during his post-game, on-court interview to soak in the cheers. The Knicks improved to 6-6; last season, they didn't win their sixth game until January 19.
There's a lot more to Porzingis's game than monster put-back dunks. Last night, he shot 10-17 from the field and made both three-pointers he attempted. At one point, he faked out Frank Kaminsky (a player the Knicks reportedly had interest prior to the Draft) with the old Hakeem Olajuwon "Dream shake."
Porzingis, by the way, knows exactly what everyone thought about him after the Draft, even if he always believed he was NBA-ready. "Yes I was. Everyone said I was a project, a few years," Porzingis said, via the Daily News. "I will get better in a few years, but I'm ready to play right now." But even he's surprised how quickly he's won over the Garden crowd. Said the rookie: "Sooner or later (I thought they'd be chanting my name). I wasn't expecting it to be right now."