Right now, nearly 500 people have "liked" a comment under a post about Mizzou student protests on the page of the conservative morning show Fox & Friends. What could receive such a ringing endorsement from die-hard conservatives? "Hit 'Like' if you wish you could drink Obama's pee out of a cup made from Ted Cruz's skull," the comment currently reads. Hmmm.

The apparent enthusiasm for drinking the president's urine is the result of a very funny and very simple prank. The author, Karen Lorde, is not actually the Grumpy Cat–profile-pic-sporting conservative that she appears to be. She is the creation of Twitter users @LRonMexico and @dankmtl, who are using Facebook's edit feature to troll Fox News viewers.

Facebook now allows users to edit their comments, allowing someone to, for example, garner a bunch of "likes" with pro-conservative sentiment and then change their message to a left-leaning one. Facebook leaves a paper trail of comment-edit history, though it's slightly buried. Here are the many things Fox & Friends fans have unwittingly endorsed over the last few hours: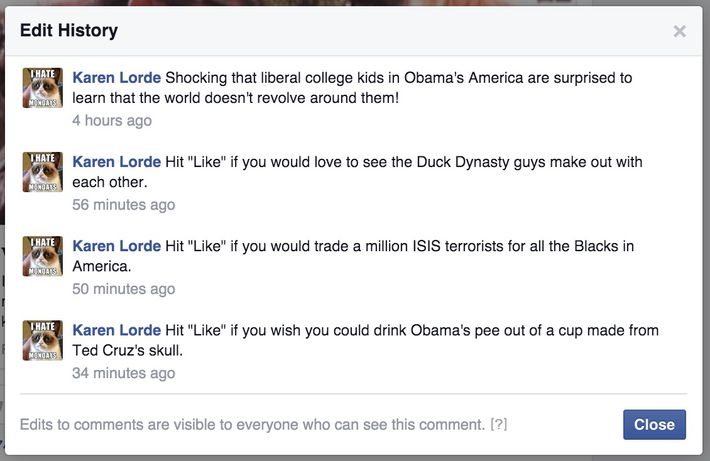 Now that they've racked up enough "likes" to reliably maintain the top-ranking comment slot, @LRonMexico and @dankmtl are free to change their comment to whatever they want it to say.