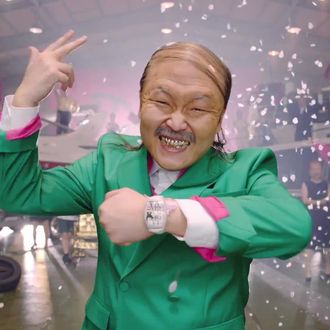 Below you will find the music video for "Daddy," a new video from Psy, the Korean rapper who had a monstrous breakout hit (Stateside, at least) with 2012's "Gangnam Style." The video for "Gangnam Style" is still the most-viewed YouTube video ever, with more than 2.4 billion views.
Now, in 2015, we have "Daddy." (Oppa Daddy Style.) It's pretty nuts; there are a lot of costumes. Psy plays a small child and a senior, in addition to some sort of disco version of himself? It seems like they're trying to recapture the magic of three years ago. Fellow Korean music star CL features on the track, with one line — "Hey, where'd you get that body from?" — frequently repeated.
Oppa Daddy Style.
Here is the hot new dance move everyone is going to be doing at the club (the one club we all go to) later this week.