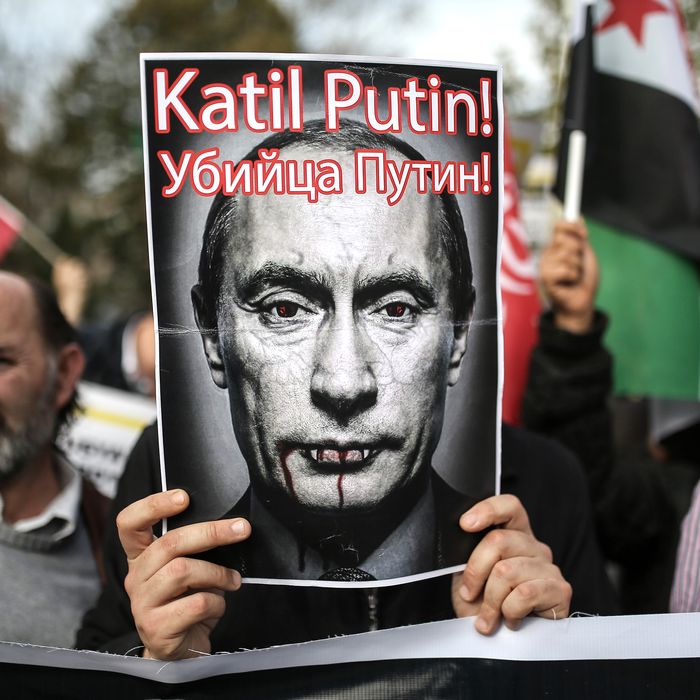 Turkish protesters doing their part for improved diplomacy — the vampire Putin sign calls him a "killer."
Photo: Cardas Erdogan/AFP/Getty Images
In the tumultuous continued aftermath of Turkey's shooting down of a Russian warplane near the Turkish-Syrian border this week, Turkish president Recep Tayyip Erdoğan still hasn't apologized, but has at least softened his rhetoric a little, saying on Saturday that he was "truly saddened" by the incident — though he's also still defending the action and criticizing Russia's military role in the Syrian conflict.
For his part, Russian President Vladimir Putin announced new sanctions against Turkey on Saturday, including the end of visa-free travel for Turkish citizens visiting Russia, a ban on charter flights from Russia to Turkey, and a ban on Russian tourism companies including Turkey in their vacation packages. Russia has also started cracking down on Turkish citizens in Russia, Turkish-owned businesses, and Turkish food imports, which some in Russia have been calling for total ban of. The sanctions could have a significant impact as well, as Russia is Turkey's second largest trade partner, and millions of Russian tourists typically visit Turkey each year.
Erdoğan also called for a face to face meeting with Putin in his remarks on Saturday, but that's probably unlikely since Putin apparently isn't even taking Erdoğan's phone calls at this point. For the time being, Turkey has gone ahead and warned its citizens to avoid travel to Russia, as well.
On Tuesday, Turkish F-16s shot down a Russian Su-24 fighter that Turkey says had illegally crossed into their airspace and been repeatedly warned. The plane subsequently crashed in Syria, resulting in the deaths of two Russian service members. Russia has since deployed surface-to-air missile systems near the border and vowed to target any aircraft that threaten Russian warplanes in the future. It was the first downing of a Russian warplane by a NATO member in half a century.
Speaking of NATO members, the Obama administration is now trying to pressure Turkey to close a key section of its border with Syria in order to help limit the movement of ISIS fighters, according to The Wall Street Journal. The plan would likely require at least 10,000 Turkish soldiers to be deployed along a 6o-mile segment of the border which is frequently trafficked by ISIS fighters both entering and exiting the war zone, according to U.S. officials. The full Turkish-Syrian border is nearly 250 miles long, and the section the U.S. would like Turkey to seal stretches from north of Aleppo in the west to north of the town of Jarabulus in the east. Both U.S. and European officials believe it was this part of the border where some of the militants involved in this month's deadly attacks in Paris crossed. As part of their message to the Turkish Government, the Obama administration warned of "significant blowback" from European powers if ISIS terrorists continue to leave Syria through Turkey on route to attacking European targets, and one official said the Paris attacks should be considered a "wake up call" regarding the Turkish-Syrian border.
Apparently Turkish officials have cited the U.S. government's ongoing border issues with Mexico in their pushback on the plan's complexity, to which a senior Obama administration official replied, "If we were at war with Mexico, we'd close that border."
The U.S. and Turkey agreed to coordinate their efforts against ISIS in July, but the Journal points out that little progress has been made since that agreement, due to policy disagreements and complications within Syria, particularly Russia's military intervention on behalf of Syrian president Bashar al-Assad, whom Turkey and the U.S. oppose.