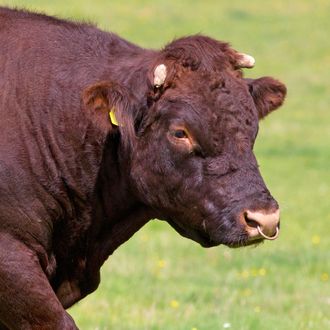 A different bull in less tragic circumstances.
Photo: Ian Lishman/Corbis
An Idaho businessman and his bull are dead after an accident on a remote highway morphed into a gun battle involving state police, the AP reports.
The chain of events began when a Subaru struck a bull on a road north of the small town of Council, Idaho, on Monday evening.  Emergency responders and local deputies arrived on the scene to help two people trapped inside their broken car. But the other injured party made their job almost impossible, as the furious animal began charging.
"The bull was very agitated and was aggressive to emergency services, as well as the other cars coming up and down the highway," Adams County Sheriff Ryan Zollman told local channel KTVB.
Just as police decided to put the bull down, the animal's owner arrived on scene, rifle in hand. The altercation that followed is still under investigation, but by the time it was over, Jack Yantis, a cattle rancher with deep ties to the local community, lay dead on the pavement. State police said in a statement that both Yantis and two deputies fired their weapons. One deputy suffered a minor injury; both were placed on paid leave.