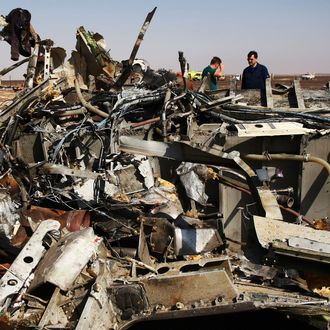 Photo: Maxim Grigoryev/ITAR-TASS Photo/Corbis
The Russian Airbus that crashed in Egypt's Sinai Peninsula last Saturday was most likely brought down by an explosion, a source close to the investigation told Reuters. Speaking with CNN, one U.S. official voiced a far more specific conclusion, telling the network that U.S. intelligence analysts now believe a bomb was planted on the airplane by militants from the so-called Islamic State.
"There is a definite feeling it was an explosive device planted in luggage or somewhere on the plane," the official told CNN.
The source who spoke with Reuters was more cautious in his analysis. 
"It is believed to be an explosion but what kind is not clear. There is an examination of the sand at the crash site to try and determine if it was a bomb," the source told the wire service. "There are two versions now under consideration: something stowed inside (the plane) and a technical fault. But the airplane could not just break apart in the air - there should be some action. A rocket is unlikely as there are no signs of that."
Governments in the U.K. and Ireland are treating the possibility of foul play seriously and have canceled all flights from their nations' airports to the Egyptian city of Sharm el-Sheikh. 
"We can not categorically say why the Russia jet crashed but we have become concerned that the plane may well have been brought down as a result of an explosive device," Transport Secretary Patrick McLoughlin told the BBC. 
ISIS claimed responsibility for downing the airliner shortly after news of the crash first broke, but Egyptian authorities dismissed those claims as mere propaganda. 
Russian Airbus A321 was only 23 minutes into its flight when it abruptly plummeted and crashed this past Saturday, killing all 224 passengers and crew.