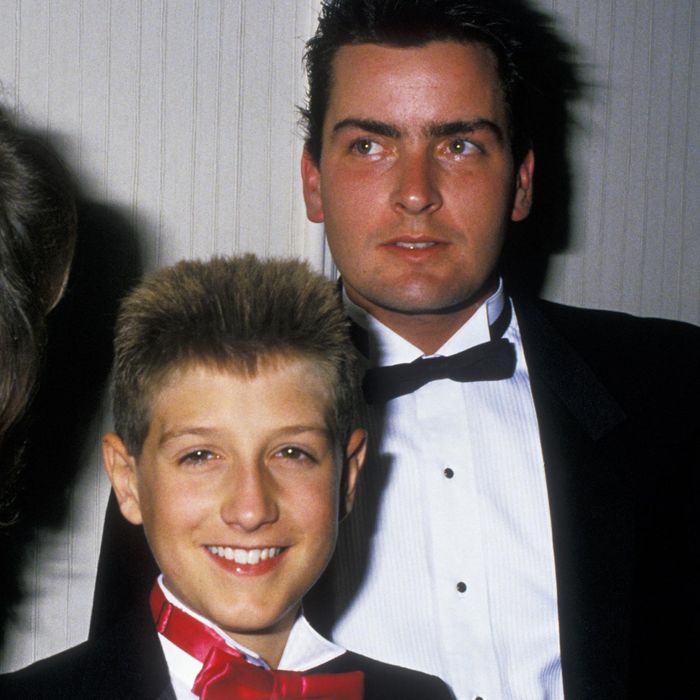 Marlee Matlin, Ryan White and Charlie Sheen.
Photo: Ron Galella, Ltd./WireImage
If there is one thing that reminds us of the difference between Charlie Sheen's announcement this week of his HIV status and that of Ryan White, the teenager from Kokomo, Indiana, who in 1984 became infected from a contaminated blood treatment and was given six months to live, it ought to be this photo.
Sheen, with proper treatment, will live for a long time, serving as, among other things, a reminder that people are still being infected. But White's legacy is more important: After he was kicked out of school out of fear of his infecting other students, he sued his local school district; in the process, he became a symbol for both AIDS research and public education and helped move the conversation about what was seen by some at first as a disease — possibly a punishment! — just affecting urban gay men. On July 8, 1988, two years before his death, he was honored at the For Love of Children AIDS benefit gala at the Century Plaza Hotel in Century City, California. Ron Galella took this photo of him with Sheen.
The event was raising money for the LA-based Ryan White National Fund, which had been founded in September 1987 to provide financial support for youths with AIDS and do anti-stigma campaigns, informing Americans that it was, say, safe to hug an HIV positive child.

The father of AIDS activism, Larry Kramer, said: "I think little Ryan White probably did more to change the face of this illness and to move people than anyone." Once Sheen gets his act together, he may pick up the torch.