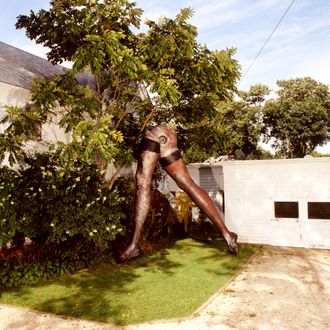 The original casting of
Legs
outside sculptor Larry Rivers' studio, made in 1969.
Photo: Susan Wood/Getty Images
The controversial pair of 16-foot-tall fiberglass legs that have stood since 2008 on the side of a church turned home in rigorously historical Sag Harbor, New York, have been ordered to walk. Their owners have been kicking and screaming to keep them there for years. The ruling by a Suffolk County Supreme Court judge will bring an end to Ruth Vered and Janet Lehr's battle with neighbors in the former whaling village, who insisted that the sculpture violated zoning laws.
Legs has a long history. In 1969, the Pop artist Larry Rivers made a mixed-media assemblage called Forty Feet of Fashion for Smith Haven Mall on Long Island. Later, the mall was redone, and his piece got the boot, but Rivers moved the legs portion of the assemblage to his Southampton studio; his neighbors hated them. A second pair of legs were cast in 1994. Vered and Lehr bought them and put them up beside their Sag Harbor home in 2008. (Rivers died in 2002.) 
Not everyone liked them. One commentator in a letter to the Sag Harbor Express wrote, "You have the entire rest of the world for cute sculptures that look like advertisements for triple X road side attractions," adding, "Please, leave them outside of Sag Harbor." Lehr, for her part, was riled up over the village's prudish rejection of the sculpture. "I think it's too much for them to cope with. It's monumental art, something beyond their experience. Sag Harbor always considers itself the intellectual village. They're letting their people down," she said back in 2012. 
Despite collecting more than 700 signatures from local residents, both Vered and Lehr were denied their attempt to have the sculpture zoned as "art" and not a separate standing structure. 
Justice James Hudson writes in his ruling that Legs "result[s] in an undesirable change in the character of the neighborhood," noting that the couple's house belonged in a historic district, where structural modifications are rarely approved.