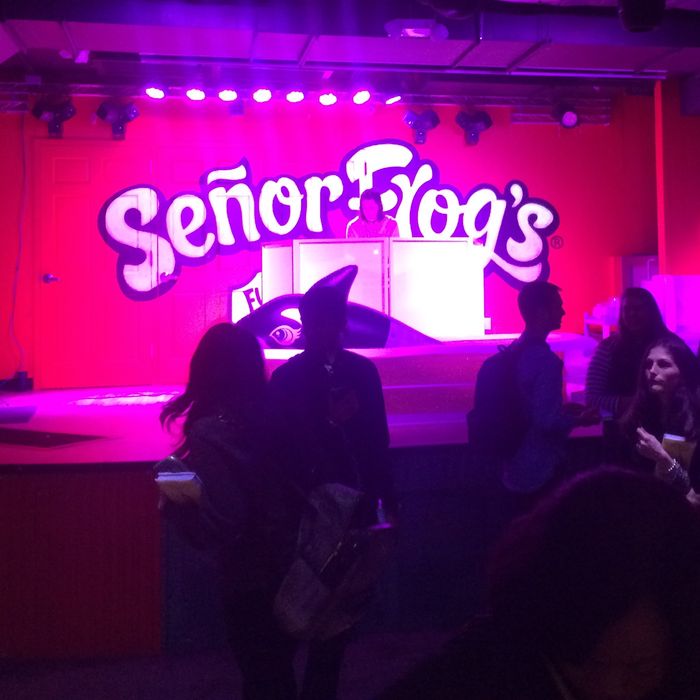 The author's note at the beginning of Money, Pizza, Respect, the new book by Instagram celebrity the Fat Jew (real name Josh Ostrovsky) begins with this sentence: "Imagine going out and partying HARD. I'm talking binge-drinking and administering drugs through your butthole (they work faster that way)." Last night's book signing, at the Times Square Señor Frog's, was not that party.
The Fat Jew is a performance artist and commentator, currently best known for his popular Instagram account, where he posts pictures with funny (or "funny") captions. Most of the time, the jokes are not of his own making: He is a "curator," though he caught flack this past summer, after rumors he'd landed a television deal, for not properly crediting the people who actually make most of the content.
Widely derided by people who write jokes online for a living (or just for the satisfaction of a fave or a like), the Fat Jew's success rests on the way he takes the work out of finding funny social-media posts. For many people, he is the main conduit between their Instagram feeds and the rest of the meme-y, jokey internet. His tone is broad, conversational, and enthusiastic; raunchy, but rarely political. The humor he collects tends to be of the observational kind: "That feeling where …" "My face when …" As with most widely copy-and-pasted jokes, the implied audience is young — the cultural references date back to the '90s and not much further — and professional, stressed-out, feeling a bit like a failure choosing between jobs and friends.
It's probably also possible to attribute some part of the Fat Jew's success to his look. He appears often shirtless, with a long ponytail that sticks straight up from the top of his head. His fatness, and his weird hair, seem meant to position him as a jolly party host; a friendly guy with lots of jokes. The Facebook invitation promised: "Come and reminisce over Amanda Bynes' meltdown, which was the best thing to ever happen on the internet. Come and I'll give you a lapdance in a restaurant, which will be super weird."
So around 6 p.m. yesterday, I headed up to Times Square and got in line outside of Señor Frog's. I was probably tenth in line, waiting for the privilege to pay $20 for a copy of the Fat Jew's book and a drink ticket. Most of the attendees seemed to have realized that throwing the term "fat Jew" around in the middle of Times Square was maybe not the best move: "Are you here for the book thing?" "Is this the line for Señor Frog's?" they asked. We were ushered inside, received our books, and descended down into the lower level of the venue, a neon hell without cell-phone reception.
The first thing I did was head over to the bar to claim my free drink. My ticket, I was told, was only good for the White Girl Wasted cocktail or the White Girl Wasted rosé. I went with the rosé. A woman at the bar searching for a phone charger told me how great Señor Frogs is, especially the one in the Bahamas: "It gets pretty wild." I nodded, since my only knowledge of Señor Frog's was as the last known location of Natalee Holloway.
As it turned out, the bar was waiting on special glasses for the wine (plastic wine glasses). Unwilling to wait that long, I swapped my order for the White Girl Wasted cocktail, which was frozen and possibly strawberry. It was the first time I have ever been white girl wasted.
Only parts of Señor Frog's — mainly the area immediately surrounding the stage — were for people there for the book launch. Stage left, a third of the room had been cordoned off for another event, and even within the space reserved for the Fat Jew, a few brave patrons were sitting down and ordering food. This seemed about right for the Fat Jew, or any Instagram celebrity: not dominating the entire space, but holding on, diffusely, to a large part of.
On the ceiling of Señor Frog's were jokey aphorisms you might find on, well, the Fat Jew's Instagram account. This one said: "Become good at cheating and you never need to become good at anything else." Hmm.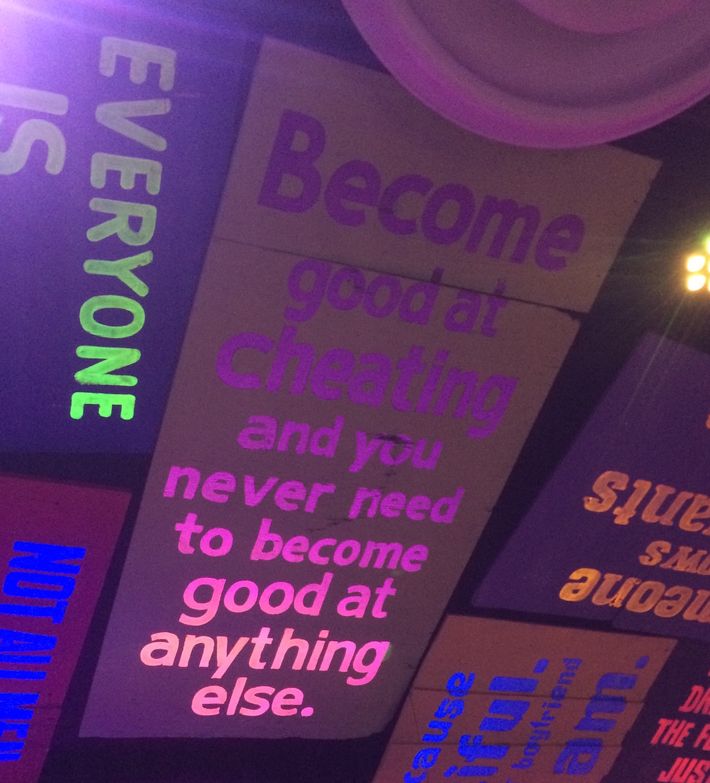 Bored, I flipped through Ostrovsky's book, which features a cover parodying Walter Isaacson's Steve Jobs. A nice, original touch. The forward of Money, Pizza, Respect is written by Tyrese, the actor and model whose Facebook page is a transparent attempt to pass off viral chum in the hopes of gaining a huge audience and attracting sponsors. That also seems fitting. The inside of the book was signed "XOXOXO Fat Jew!"
Onstage, a D.J. spun in front of an inflatable pool that contained a blow-up killer-whale toy. Why it was there had yet to be revealed. It was seven, half an hour after the start time for this two-hour event, and Ostrovsky still had not appeared.
I attempted to talk to a few people, but the blasting music made that difficult, as did the general awkwardness of talking about social media off social media. It later became clear that a lot of people were there for the photo op, hoping to use Ostrovsky's fame to get a few likes of their own. Others crowded around the pool. People expected Ostrovsky's good-time party-guy brand to translate to, if not IRL good-time parties, at least some kind of shenanigans. Perhaps even an epic or legendary party event.
At 7:12, I noticed a small crowd ebbing toward the left side of the stage. It turns out that that was where Ostrovsky had appeared. No one had announced his arrival. He had just, sort of, showed up? People were respectfully crowding him to snag selfies. There were two security guards in orange shirts doing crowd control, which seemed unnecessary. Ostrovsky was easy to spot because of his unique hairdo. One thing that doesn't come across online is that the dude has to constantly fix the long spindle of hair jutting from the top of his head.
I stood back a bit. Eventually, the Fat Jew (who, I would like to note, is honestly not that fat!) climbed onstage and got into the inflatable pool. He still hadn't really addressed the crowd, but they seemed happy to get pictures with him. One man, who I would guess was in college, Facetimed a female friend to bring her genuine live footage of the Fat Jew. At one point, a Señor Frog's employee offered the Fat Jew a mic, in case he wanted to say anything to the crowd. He waved it off.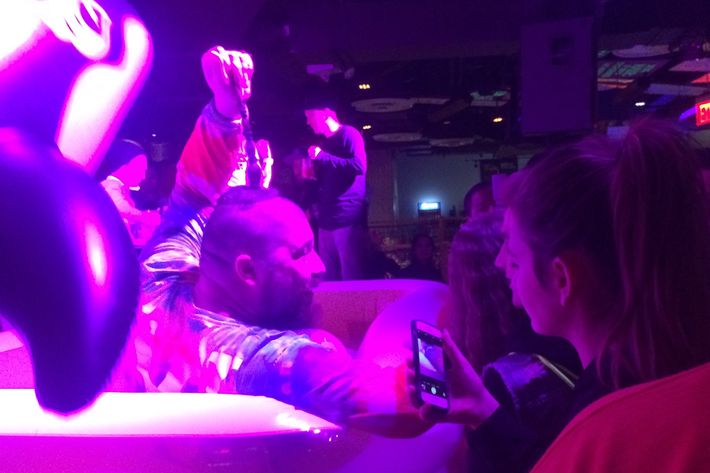 I was waiting for the party to start, but it soon became clear that it had. This was the party. The Fat Jew had nothing to say, no announcements to make; he was not hosting, or schmoozing guests, or … doing keg stands, or whatever. I had misunderstood the Fat Jew concept. The idea was not to have an actual party, it was to help his fans create minorly viral content of their own: a photograph of themselves with the Fat Jew.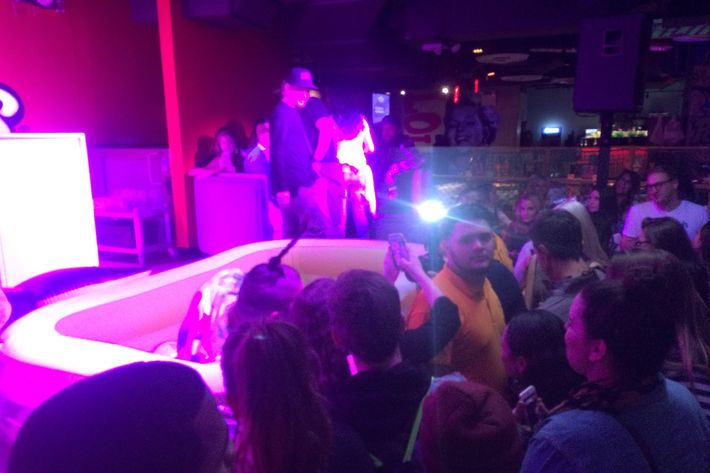 I inched closer to the small crowd surrounding the stage. There was no pushing, just everyone shuffling slowly toward the man in the pool, handing their phones to the assigned picture-taker, and posing for photos. I handed over my phone and stepped up to the Fat Jew. I was too afraid to say anything. Sensing my nervousness, the Fat Jew drew me in close and placed a reassuring hand on my chest.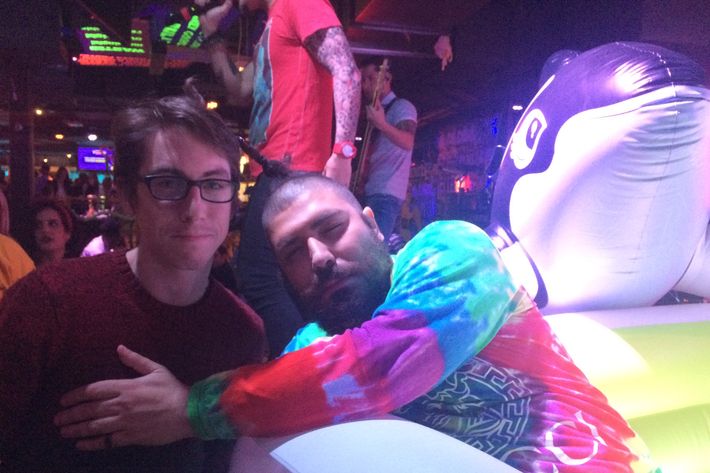 Nailed it.
I went to the bathroom and by the time I had returned, the Fat Jew had vanished. The area surrounding the stage had mostly cleared out and it seemed like the party was over. Just as mysteriously as he had appeared, he had disappeared. It was 7:50, 40 minutes earlier than the 8:30 end time that Ostrovsky had announced on Instagram earlier that day. As I exited upstairs, I noticed that people were still buying his book to get in.
But I had created my own content. I sent the picture to a couple of friends in order to gauge reaction. "OMG WHAT," texted one friend. "HOLY FUCK," said the other. Not viral, but close enough.