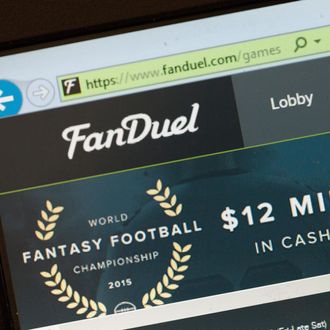 Daily fantasy sites could make their last stand here
Photo: Scott Olson/Getty Images
Attorney General Eric Schneiderman filed twin suits against daily fantasy-football websites DraftKings and FanDuel Tuesday morning, saying they were nothing more than online bookies. The text of both suits says the approach of the sites "is not new. Bookmaking operations in jurisdictions with legal gambling like Nevada have long accepted sports proposition of 'prop' bets."
Monday afternoon, the two websites heard judgment on their emergency complaints that were filed last Friday. In separate rulings, the State Supreme Court in Manhattan stated that neither of the sites would be able to file an injunction against the attorney general on grounds that he wrongly characterized their business models as illegal gambling. Both businesses maintain that their operations are based on a legal game of skill.   
Last week, the daily fantasy sites vowed they would fight to stay open to New Yorkers for as long as long as possible. However, New York–based FanDuel stopped accepting new players from its home state on Friday. A spokesperson for DraftKings, which is based in Boston, said in a statement that the company "is confident in our legal position" and has not released additional information about the status of its players in New York.
Earlier this month, Attorney General Schneiderman called DraftKings and FanDuel "leaders of a massive, multibillion-dollar scheme intended to evade the law and fleece sports fans across the country." Both sites have yet to comment on Tuesday morning's lawsuit.