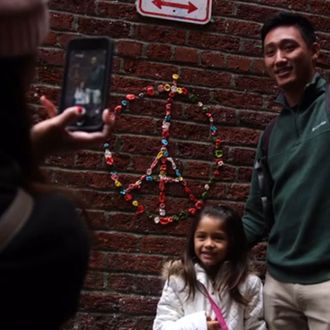 Photo: Lauren Frohne / The Seattle Times
Seattle's famous Pike Place Market gum wall, or the "the second-most disgusting tourist attraction in the world," was bidden a farewell last Wednesday after the owners of the wall decided to power-wash the decades-old gelatinous buildup. But this Sunday, in the wake of global shock following the Paris massacre, local residents rallied at the wall to pay tribute to those slain in the attacks, gum in hand — and mouth. A dozen participants chewed up and and pieced together the "Peace for Paris" symbol on the gum wall. The now-iconic image, designed by artist Jean Jullien in the immediate hours following the attack, has gone global as a sign of solidarity. 
The "flash" memorial seems to have been the beginning of the wall's comeback. Only two days later the "peace" sign is nearly impossible to discern in the midst of newly planted wads of chew. Apparently, tourists are already flocking to the gum-scented brick wall to stick their own piece of history on it, as the shrine to spit embarks on a second life.