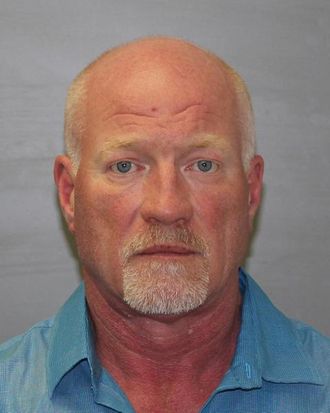 Photo: New York State Police
The prison worker who apparently helped deliver hunks of hamburger meat stuffed with a hacksaw blade to the two convicted killers who escaped from a maximum-security prison in upstate New York pleaded not guilty to charges related to their break this June. Gene Palmer, who is suspended from the prison, is accused of "inadvertently" assisting the prisoners' escape by bringing them tools, including a screwdriver and pliers. He apparently did so in exchange for artwork painted by Richard Matt, one of the two fugitives, who was eventually shot dead by authorities at the close of a three-week-long manhunt.
Fellow prison guard Joyce Mitchell, who is about to serve a prison sentence of her own for abetting the inmates' plot, also apparently convinced Palmer to deliver the tainted chopped meat to Matt and his partner, David Sweat. It's still unclear if Palmer knew the hamburger had a hacksaw filling, and he claims that, unlike Mitchell, he was not aware the two men were planning to escape.
Palmer waived his right to a grand jury but rejected all charges, which formally include felony tampering with evidence and delivering contraband, and a misdemeanor count of official misconduct. The next court date is scheduled for the end of January, but plea negotiations are apparently ongoing.