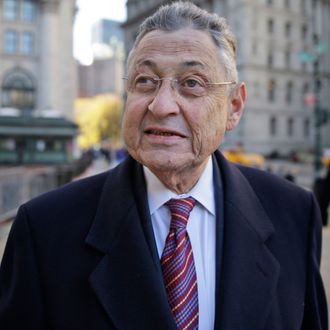 A jury found Assemblyman Sheldon Silver — for years one of the most well-known and powerful legislators in Albany — guilty on all seven counts Monday afternoon. The 71-year-old Lower East Side Democrat was hit with federal corruption charges — including bribery, extortion, and money laundering — earlier this year after U.S. Attorney Preet Bharara accused him of obtaining "approximately $4 million in payments characterized as attorney referral fees solely through the corrupt use of his official position [as Speaker]."
Since state legislators work part-time in New York, Silver, who resigned from his position as Assembly Speaker after being arrested, had a side gig at the law firm Weitz & Luxenberg, where he was accused of accepting bribes involving a cancer researcher at Columbia. Prosecutors accused him of receiving money from another law firm, Goldberg & Iryami, after getting two major developers to use its services. During closing arguments, one prosecutor said that "Sheldon Silver was a master of every form of deception: lying, keeping secrets, even splitting hairs."
The defendant smiled often during the trial, telling reporters over and over again, "I believe I will be vindicated." On Monday, NBC News says he listened to the verdict with "his head bowed slightly and a somber expression on his face." Silver will no longer be allowed to serve in the Assembly, where he's been since 1977. He faces up to 130 years in prison, according to CBS News. He is expected to appeal.
Bharara — who is on a major anti-corruption kick — also hit former State Senate Majority Leader Dean Skelos, and his son Adam, with federal corruption charges. That trial has yet to conclude. After the conclusion of Silver's trial, he released a statement noting that "Today, Sheldon Silver got justice, and at long last, so did the people of New York."
Newsday notes that Silver has "lasted through five governors and five State Senate leaders." Back in January, New York Magazine's Chris Smith said that Silver had "ruled half the state legislature for two decades; he's wielded enormous power in state budget negotiations; he played a large role in keeping state government functional during the chaotic reign of Governor David Paterson." In other words, his absence from the Assembly — and the fear his conviction might cause — could lead to some big changes in Albany.
The capitol seems to be starting by removing any sign that Silver was ever there. 
No word yet on how the weary Silver jurors plan to celebrate the end of the trial.