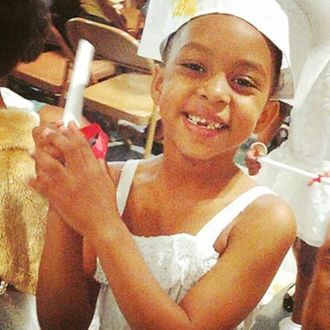 Six-year-old Ja'Mecca Smith is dead and her father is in custody after the little girl reportedly shot herself after finding a gun between the cushions of a sofa in her family's Atlanta home on Saturday. Hers marks Georgia's fourth accidental gun-related death of a child in the last six weeks, according to the Atlanta Journal-Constitution. 
Police responded to the Atlanta home just after 11 a.m. on Saturday morning, where Smith's father — 25-year-old Demarqo Smith — was nowhere to be found. Authorities said that he had fled the scene briefly before returning to talk with detectives.
Atlanta police arrested Smith on charges of involuntary manslaughter and reckless conduct. He is currently in Fulton County Jail awaiting a court appearance on Monday.
"Right now my life is in shambles. It's hard and it hurts. I lost my baby girl and I'm upset," the girl's mother, Kate Milling, told WALB at a vigil on Sunday night. She was not in the apartment when her daughter died.

"The fact that a child got a gun isn't an accident, that's negligence," said Viviana Goldenberg, a member of the Georgia chapter of advocacy group Moms Demand Action earlier this month after 2-year-old Jayden Jamar Clay accidentally shot himself with a gun that belonged to his mother's boyfriend.

Since mid-October, an 8-year-old and two 2-year-olds have been killed in Georgia after accidentally discharging loaded guns that were found in their homes. An analysis by the Washington Post in October found at least 13 other toddlers have inadvertently shot themselves so far this year. At least ten more injured other people. According to Wonkblog's Christopher Ingraham, their stats were derived from instances where a shooting by a toddler made the news. It's likely there were other events with more minor injuries for which the media was not notified.
U.S. citizens account for more than half of private gun ownership worldwide, so its understandable that some of them end up in the hands of children.