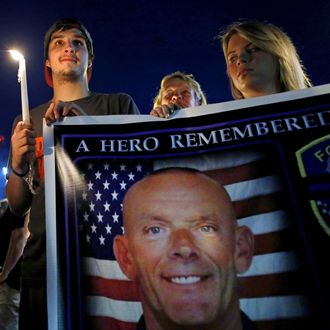 Fox Lake police lieutenant Charles Joseph Gliniewicz was mourned as a hero.
Photo: Jim Young/Reuters/Corbis
Illinois's "hero cop" is growing less heroic by the day. On Wednesday, investigators announced that the Fox Lake police lieutenant whose shooting death sparked national outrage this past September died by suicide. Now, police say that before taking his own life, officer Charles Joseph Gliniewicz tried to hire a hit man to take someone else's. 
On September 1, Gliniewicz told his dispatcher that he was chasing three suspicious men on foot. By the time backup officers arrived on the scene, Gliniewicz lay dead and bleeding 50 yards from his squad car. A massive manhunt ensued, as hundreds of officers scoured nearby houses, cabins, and boats for any sign of the three men they presumed to be involved in Gliniewicz's death. But the killer they were looking for turned out to be the fallen officer himself, local police said Wednesday.
Investigators discovered that Gliniewicz had been stealing money from the Fox Lake Police Explorers Program for at least seven years. "Personal stress from scrutiny of his management" of the youth program led Gliniewicz to commit suicide, Lake County Major Crimes Task Force commander George Filenko told reporters at a Wednesday press conference.
"Gliniewicz's death was a carefully staged suicide," Filenko said, adding that the cop had "significant experience staging mock crime scenes."
But before killing himself, Gliniewicz tried to escape that "scrutiny" by ordering the killing of someone else. In text messages obtained by authorities, Gliniewicz asked for an unnamed friend to help him hire a "high-ranking gang member" as a hit man, Lake County Sheriff's Office spokesman Christopher Covelli told the Associated Press on Thursday. In previous messages, Gliniewicz had contemplated trying to frame Anne Marrin, an administrator who knew about his thievery, for cocaine possession. But last April, at least for a time, Gliniewicz decided it would be better to have Marrin killed, according to Covelli.
Gliniewicz's son D.J. had told FOX 32 Chicago that his father "never once" thought of suicide and had talked excitedly about what he planned to do after retiring. Gliniewicz had four children and was known as a tough but affectionate role model to the kids in the youth program he allegedly stole from, according to Fox News.
Earlier Thursday morning, an official told the AP that both D.J. and Gliniewicz's wife, Melodie, were being considered as possible accomplices in the fallen officer's embezzlement scheme.
Gliniewicz's death was widely cited as evidence that heightened criticism of police practices — in the wake of several high-profile officer-involved shootings — had made cops' jobs more dangerous. But as the Washington Post notes, recently released FBI data show that assaults on police officers fell sharply in 2014 and are at their lowest point since 1996.
This post has been updated throughout.