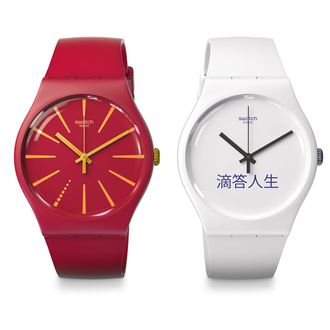 Swatch has built its business around being trendy but high-value, and now it's determined to be a part of the latest thing people are doing with their wrists: paying for things. It's made a deal with Visa Inc. to turn the colorful, rubbery timepieces into "prepaid bank cards."
Owners of the Swatch Bellamy will be able to use the "pay-by-the-wrist" technology by early 2016. Rather than connect to the internet, the watch will use a communication chip to make payments at contactless terminals. The smart Swatch is also expected to have the same battery life as an ordinary Swatch watch.
According to the Verge,  Swatch hasn't explained if there will be authentication methods to prevent fraud if the watch is stolen.
The Swatch Bellamy is a response to competition from products like the Apple Watch. U.S. prices are still unknown, but it will sell for about $91 in China, which is below Apple Watch's starting price of $349, not to mention those from Samsung, Motorola, and LG.