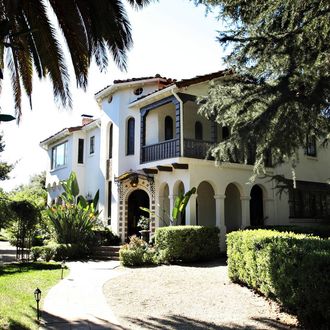 The Acacia Mansion, pre-desecration
Photo: Airbnb
Ever wonder where pornographers get those gorgeous mansions they seem to film in? Sometimes, according to a complaint recently obtained by the Smoking Gun, they find them on Airbnb. Kristina Knapic thought she was renting her 1920s home in Ojai, California, to an Airbnb user named Anna, who was planning "a quick summer vacation" with some friends. But, she alleges, it was actually used by Michael Lucas, the gay porn king of New York, for a hard-core shoot, which she discovered upon returning and finding her sheets soiled and enema kits strewn about.
"Anna" was running late the day the rental was supposed to start, so Knapic handed her key to a handsome Russian-Israeli man who claimed to be her brother-in-law. Later, she says, she realized this man was actually Lucas, but by then the damage was done: She claims there were enema kits "on the floors, in the beds, in nightstand drawer and in the trash." The garbage was filled with "sexual devices," the water in the hot tub was a peculiar shade of brown, and "urine, semen, and fecal matter" stained the "linens, carpets, upholstery, walls, [and] ceilings."
Granted, that may sound like the sort of detritus you'd expect from an especially good "summer vacation with friends." Certainly crazier things have happened when people rent their place out on Airbnb (which some have argued has become a hookup app.)But as Knapic inspected her desecrated palace, she found a business card for "Lucas Entertainment." A few Google searches later and Knapic had determined that this was not the film company behind Star Wars, but the one that produced Cockstalker and a XXX remake of Dangerous Liaisons, which substitutes Chelsea for 18th-century France. Knapic then found the social media pages of Michael Lucas (who was born, in Moscow, Andre Treivas), where the filmmaker had advertised that he was shooting on location in her home.
Knapic's lawsuit alleges that the "pornographic images and films made at the Property" damaged its "reputation and image" and requires extensive cleaning and repair. She is seeking unspecified monetary damages and a court order enjoining Lucas from distributing the "vile pornographic movies" he shot during his stay.
Update: According to Michael Lucas, this isn't a story about a nightmare tenant on Airbnb —  it's a story about a nightmare landlord. Lucas says that Knapic resided in a guest house on the property for the entirety of his stay; that he has videos and photographs showing that the house was pristine upon his departure; that cleaning staff went through the home prior to its next rental, without any complaint about it's condition; and that she took two months to file her complaint. You can read Lucas's full statement on the lawsuit here.