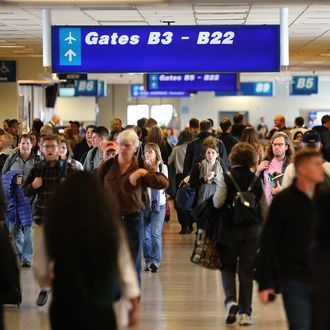 Travelers should "avoid large crowds or crowed places."
Photo: George Frey/2013 Getty Images
This morning on the Today show Secretary of State John Kerry declared "people need to not panic" about the potential of more terror attacks from the likes of ISIS, but later in the day the State Department undercut that message by issuing a rare worldwide travel alert. It's the first such alert issued in nearly a year, and it expires on February 24, 2016. The department warns that terror groups like ISIS and Boko Haram, "continue to plan terrorist attacks in multiple regions. These attacks may employ a wide variety of tactics, using conventional and nonconventional weapons and targeting both official and private interests."
In case Americans haven't been following the news closely, the statement outlines a few nightmare scenarios:
Authorities believe the likelihood of terror attacks will continue as members of ISIL/Da'esh return from Syria and Iraq. Additionally, there is a continuing threat from unaffiliated persons planning attacks inspired by major terrorist organizations but conducted on an individual basis. Extremists have targeted large sporting events, theatres, open markets, and aviation services.  In the past year, there have been multiple attacks in France, Nigeria, Denmark, Turkey, and Mali. ISIL/Da'esh has claimed responsibility for the bombing of a Russian airliner in Egypt. 
The point of the warning is to urge U.S. citizens traveling abroad to monitor threats along their route, prepare for additional screenings, and be extra vigilant. They're advised to "be aware of immediate surroundings and avoid large crowds or crowded places" and "exercise particular caution during the holiday season and at holiday festivals or events."
It appears the alert is a response to the current situation worldwide, not any specific threats to the U.S. or Americans abroad. So try to focus on that as we enter the busy holiday travel season.