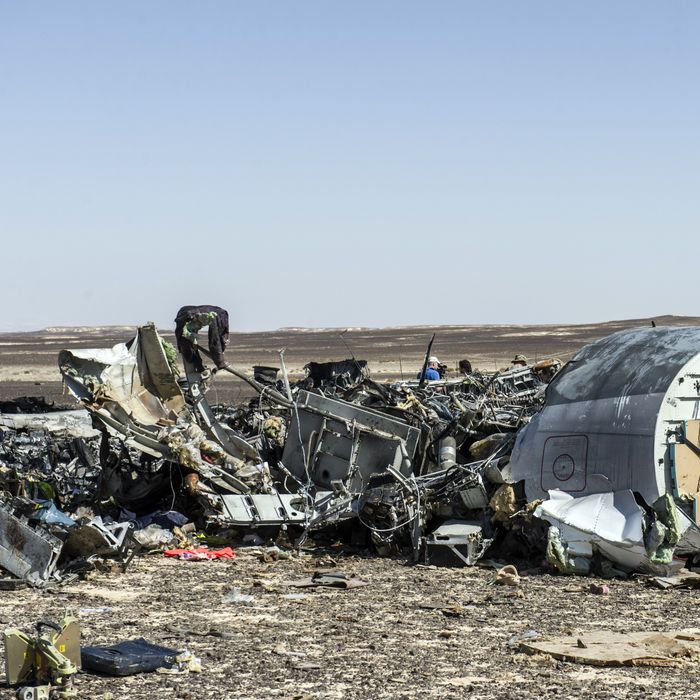 Debris from the A321 Russian airliner that broke apart over Egypt on October 31.
Photo: Khaled Desouki/AFP/Getty Images
Earlier this week, American and British intelligence officials indicated it was likely that a bomb brought down a Russian airliner over Egypt's Sinai Peninsula last weekend, and analysis of the plane's flight recorder would now seem to support that theory. The Associated Press reports that the Egyptian head of the joint investigative team looking into the crash has announced that a sudden noise can be heard in the last second of Flight 9268's cockpit voice recording, though the same investigator was still reluctant to conclude what happened to the Airbus 321 before it broke up at an altitude of 30,000 feet on the morning of October 31, killing all 224 people aboard. The investigator indicated they were considering all possibilities, including explosions both accidental and deliberate, as well as structural failure. But CNN reported on Friday that analysis of the same recording by French investigators left them with the conclusion that it was no accident that took down Flight 9268, in particular because there seemed to be nothing wrong with the plane before everything suddenly blacked out within a millisecond, indicating a bomb was responsible. Anything other than a bomb, they conclude, would have left some kind of additional data.
Further analysis of the noise is now being done in an attempt to identify it, while at the same time Egyptian authorities are reportedly reviewing security footage from Sharm el-Sheikh airport as well as questioning airport staff and the ground crew that worked on the ill-fated plane. Some of those staff members have now also been placed under surveillance. As of Saturday, the prevailing suspicion is that the plane was destroyed by some of kind of explosive placed in the hold of the plane, likely by someone who was not on the plane at the time the bomb went off.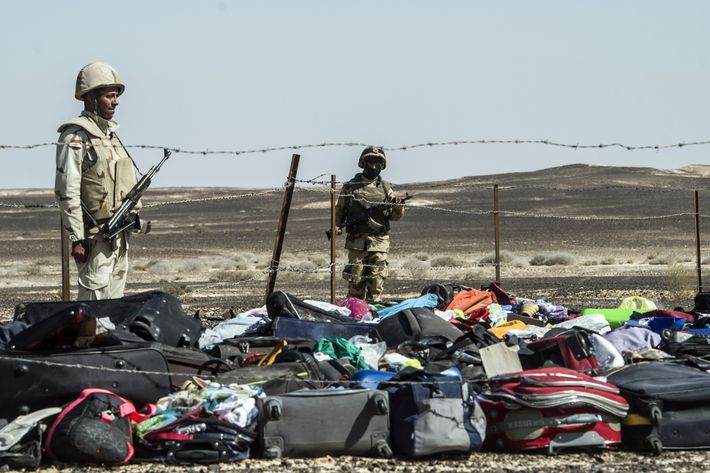 In the New York Times's look at Egyptian airport security practices, they point out that there seem to have been obvious, well documented holes in how security measures have been implemented at the country's airports. They cite a British firm's recent assessment of Sharm el-Sheikh airport, which identified how "shortcomings were found in the screening of both passengers and checked baggage." These problems were apparently addressed, however, and U.K. officials never felt it necessary to ban flights to the region — at least not until this past week, when they and Ireland both suspended flights to Sharm el-Sheikh, while other Western European nations have simply issued travel warnings. On Friday, Russia also announced that it was suspending all commercial flights to Egypt, and a Kremlin spokesman told CNN that the U.S. and U.K. had both shared their intelligence about the crash with Russia prior to the decision. The U.S. has also offered to send F.B.I. forensics experts to assist with the investigation, and on Saturday Russia officially requested that assistance as they try to analyze the debris from the flight, which was spread out over a 13-square-kilometer area. It now seems that Russian authorities are coming around to the conclusion that terrorism was likely responsible for the tragedy.
On the other hand, for most of the week Egyptian officials have been notably reluctant to acknowledge any likelihood that the flight was the target of terrorists, and the country's foreign minister has even been complaining that Western intelligence agencies haven't shared the information that's led to all those countries' travel bans and warnings. Stepping back, most observers link Egypt's skeptical stance to political motivations and the fact that Egypt's aviation authorities are controlled by a regime that is understandably worried about its already-struggling tourism industry falling off a cliff — an outcome which now seems inevitable. However, as the Times points out, Egyptian authorities were also difficult to work with during the investigation into the crash of EgyptAir Flight 990 off the coast of Massachusetts in 1999, and the two countries have still never agreed about what happened to that flight. (U.S. investigators concluded that it was pilot error or suicide, while Egyptian investigators cited mechanical failure.)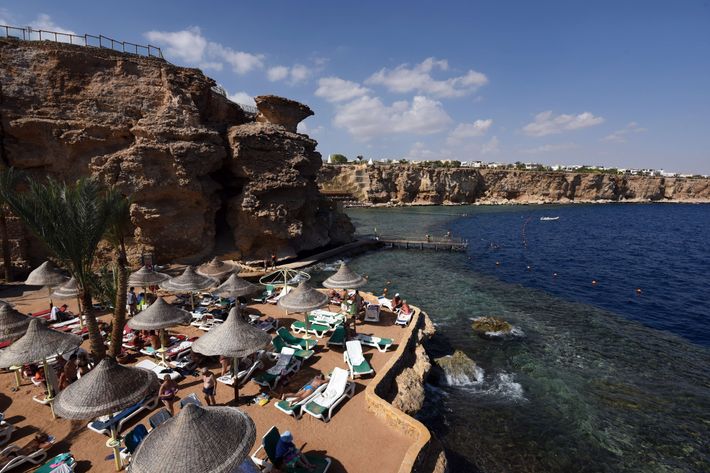 If it was indeed a bomb that took down the Russian airliner last weekend, Western intelligence agencies have suggested it was an ISIS-linked group that perpetrated the attack, and an ISIS affiliate in Egypt went so far as to claim credit last Saturday after the crash, but what's puzzling is that no one has claimed credit while also offering specific details as to how they carried out the bombing, so as to remove any doubt about their responsibility. 
In the meantime, a reported 80,000 Russian tourists remain stranded in Egypt, almost all of them in the resort regions. Russian authorities are sending 93 empty planes to Egypt this weekend to collect their citizens, and the U.K. has already been trying to do the same for the 20,000 of its citizens who were stuck in Sharm el-Sheikh as well. Many passengers leaving Sharm el-Sheikh have been prohibited from bringing checked luggage on their flights, leaving with carry-on luggage only.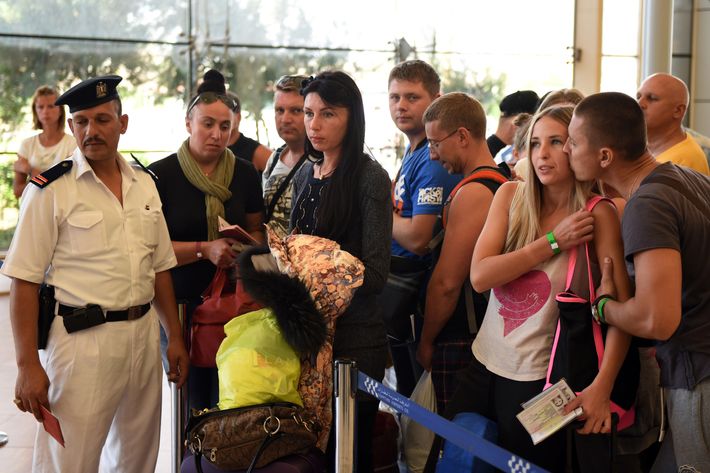 On Saturday, it also came out that in August a British airliner had changed course after its pilots saw something that looked like a rocket coming at the plane while passing over the Sinai Peninsula. The BBC notes that Egyptian authorities insist the sighting was actually of artillery practice by the Egyptian military and posed no danger to the plane — a conclusion British investigators subsequently agreed with. While militants operate through the Sinai Peninsula, no one seems to be believe they could possibly be equipped with surface-to-air missiles that are capable of shooting down a commercial airliner at the altitude such aircraft typically fly at, and no radar evidence of a missile was recorded at the time the plane broke apart, so some kind of bomb being planted aboard the plane seems like the only way a terrorist could have targeted the flight.