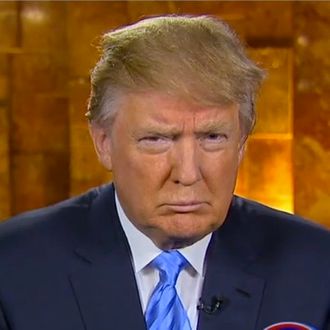 Donald Trump held a campaign event in Columbus, Ohio, on Monday, and the super-pac supporting Ohio governor John Kasich decided to warmly welcome him with a new web ad reminding voters of some of the front-runner's "greatest hits." And by "greatest hits," New Day for American means all of the awful things Trump said a while back that have been overshadowed by some of the more recent questionable things that have tumbled forth from his adverb-loving face hole.
Like the time he told The View, "I've said that if Ivanka weren't my daughter, perhaps, I would be dating her." Or that time he said Senator John McCain wasn't a war hero because he got caught. And don't forget the time he reenacted Ben Carson's story about failing to stab a guy because his knife was stopped by a belt buckle!
The Ohio governor's campaign also released an ad on Monday about Trump saying he wanted to register all Muslims in the United States. 
Trump prepared for his first rally in Ohio in turn by making fun of Kasich, who is currently at about 2 percent in the polls. 
He also mentioned Kasich a few times in his hour-long speech on Monday night, saying, "Your governor is only 2 [percent]. What happened?" He added, "I heard he's dropping out." Kasich — whose super-pac is using "yearbooks, church lists, [and] sports rosters" to try and find yet nonexistent voters, according to Bloomberg — has said he is not about to exit the presidential race. 
Trump didn't devote much time to insulting Kasich; however, much of his speech was spent repeating the things Kasich's new ad attacks — while Trump's thousands of supporters cheered him on. 
Very few Republican presidential candidates besides Kasich have tried the "attack Trump" strategy of campaigning — or at least haven't stuck with it after their first taste of an offensive Trump offense. Kasich seems content to keep trying, even if it means getting called a dummy.