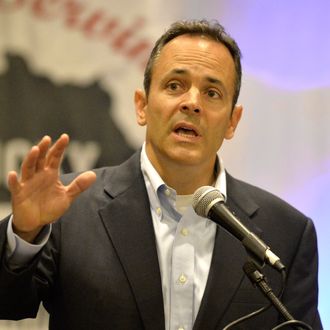 Matt Bevin speaks at a candidates forum in Louisville, Kentucky on June 18, 2015.
Photo: Timothy D. Easley/AP/Corbis/© Corbis. All Rights Reserved.
On Tuesday night, Kentuckians decided that they like outsider-y businessmen more than expanded health-care coverage. While Democratic attorney general Jack Conway had a slight lead in the polls, tea-party favorite Matt Bevin won a decisive victory in the state's gubernatorial race, taking 53 percent to Conway's 44 percent, with all precincts reporting.
While Kentucky, the home of Senator Rand Paul and Senate Majority Leader Mitch McConnell, is thought of as a solidly red state nationally, Democrats have traditionally controlled the state government. Bevin will be only the second Republican governor in the state in four decades. Republicans now have a majority in the state Senate, and Democrats lead by eight seats in the state House of Representatives.
Bevin, a millionaire investment manager, has had a difficult run as he tried to enter the world of politics. In 2014, he tried to unseat McConnell and lost by 25 points. After a last-minute entry into the gubernatorial race, he beat two establishment Republicans by just 83 votes.
The general election has been nasty at times, and one of the most contentious issues is the future of Kentucky's health-care system. Current Governor Steve Beshear has been a strong supporter of the Affordable Care Act, setting up the state exchange, Kynect, and accepting federal money to expand Medicaid. That led to nearly 10 percent of the state's population signing up for Medicaid coverage, and according to Forbes, last year Kentucky saw the biggest reduction in the number of residents without health insurance of any state.
Bevin has vowed to do away with Kynect, sending Kentuckians to the federal exchange instead. Initially he said he would end the Medicaid expansion as well, but then softened his position, saying he would prevent new enrollments but allow those who have coverage to keep it.
Bevin also split with Conway in his support for Kim Davis, the Rowan County clerk who refused to issue marriage licenses to same-sex couples. "I absolutely support her willingness to stand on her First Amendment rights," he told The Courier Journal. "Without any question I support her."
McConnell congratulated his former rival on Tuesday, saying, "I look forward to working with him to pass a pro-coal, pro-jobs agenda at the state level to help put Kentuckians back to work."