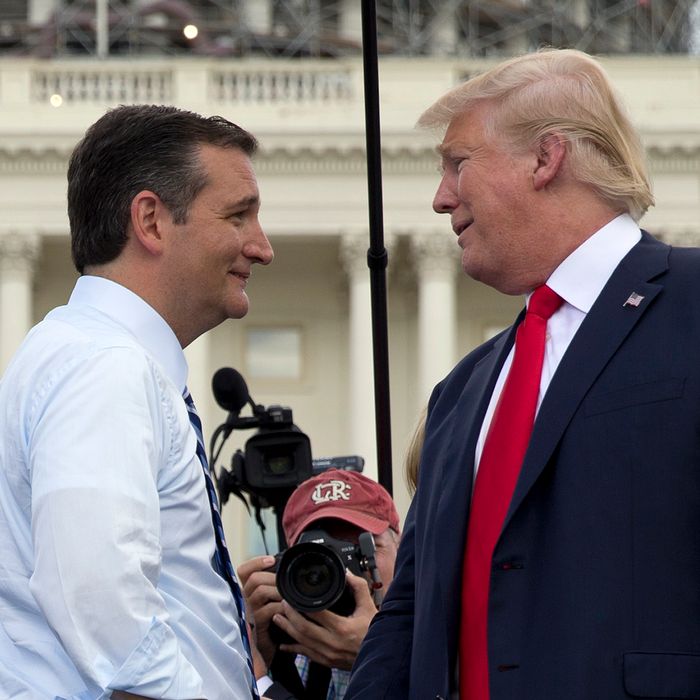 Cruz is now in second place in Iowa.
Photo: Carolyn Kaster/© Corbis. All Rights Reserved.
Though Donald Trump has been the front-runner in the GOP presidential race for months now, many political analysts still refuse to accept that he could be the party's nominee. They cope by latching on to other candidates who appear to be surging in the polls, and theorizing about how they could eventually topple the reality-show character holding the GOP hostage. After Scott Walker dropped out of the race, it was Marco Rubio's turn to be the savvy pick for front-runner. Then pundits had to consider the troubling possibility that they'd shake Trump, but get left with Ben Carson.
Rubio is still the most popular choice, though he's yet to consolidate support among establishment Republicans, but thanks to two polls out of Iowa, now there's another alternative: Ted Cruz.
Some, like Slate's Jamelle Bouie and the Washington Post's Chris Cillizza, made the argument for Cruz as a plausible nominee a few weeks ago, but he earned widespread attention this week when CBS News and Quinnipiac polls showed him in second place among likely Iowa Caucus participants. CBS has Trump at 30 percent, Cruz at 21 percent, and Carson at 19 percent. In the Quinnipiac poll, Trump has 25 percent, Cruz has 23 percent, Carson has 18 percent, and Rubio has 13 percent. A month ago that survey had Carson in the lead at 28 percent and Cruz in fourth at 10 percent.
That was enough to make Bill Kristol declare on Tuesday, "Cruz could well win in Iowa. That certainly would make him one of the final three or four [GOP candidates]. Things can change so quickly as we know, but if you have to look now you've got to say it looks like Trump, Cruz, Rubio and maybe Carson."
Cruz has a very well-organized operation; he has 100,000 volunteers nationwide and he's raised more money than any candidates except Jeb Bush and Hillary Clinton. The Texas senator has been fighting Carson for evangelical voters, and it looks like he benefited the most from the neurosurgeon's recent stumbles regarding foreign policy and assaulting family members.
The Post's Paul Waldman laid out Cruz's path to victory:
As Carson fades, Cruz keeps winning support in Iowa, where evangelical voters are a dominant force. He wins the caucus on February 1, winding up on the front page of every newspaper and in demand by every TV station. That vaults him up to second or third in the New Hampshire primary, which takes place a week later. Then the campaign moves south, for the South Carolina primary on February 20, a brief detour to Nevada on the 23rd, and then Super Tuesday on March 1st, which will include Alabama, Arkansas, Georgia, Oklahoma, Tennessee, Virginia, and Cruz's home state of Texas — southern states with lots of evangelical voters where he could do very well.
But he also acknowledged that there are some serious hurdles for Cruz — like the fact that he's despised by both Democrats and Republicans in Washington, and "If he somehow won the nomination, it would be a disaster for the party to rival Barry Goldwater's defeat in 1964."
The Atlantic's David A. Graham says a perceived Cruz surge might actually help Rubio consolidate support. "If Cruz continues to gain altitude, it might lead GOP leaders to rally around Rubio because they dislike Cruz — or because they fear he'd be a much weaker general-election candidate," Graham writes. But in the meantime, Team Rubio seems concerned by Cruz's newfound popularity. A Rubio backer is behind this new Iowa TV ad that accuses Cruz of "leading from behind" on foreign policy.
And while Cruz has refused to criticize Trump in an effort to endear himself to the billionaire's supporters, it looks like he's changing strategy. In the past few days, he criticized Trump's proposed Muslim registry and rejected his fellow candidates' aggressive response to the Paris attacks. "Tone matters," Cruz, told the Associated Press. "Are there some in the Republican Party whose rhetoric is unhelpful with regard to immigration? Yes."
Salon found Cruz's effort to cast himself as a moderate laughable, especially since he suggested a religious test for Syrian refugees hoping to enter the U.S. However, portraying himself as a candidate who's tough on foreign policy, and can express his views forcefully without sounding unhinged, may work for Cruz — at least until someone else surges into the role of Trump's primary rival.