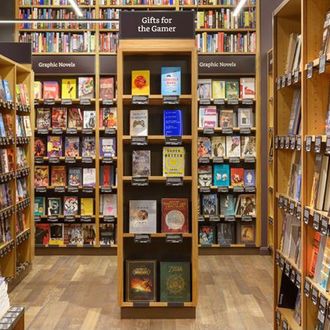 Looks like it's time for a You've Got Mail sequel in which Fox Books has gone out of business and Tom Hanks — whose relationship with Meg Ryan is suffering because they only communicate through Snapchat — is forced to go work for a significantly younger boss, who happens to be former Fox Books employee and noted children's-book know-nothing Chris Messina, at a tech company that has opened a bookstore in the space where the Shop Around the Corner used to be. 
Amazon Books — the first brick-and-mortar location of a book-selling enterprise that made many bookstore chains irrelevant — opens in Seattle today. As Quartz points out, the mall where the bookstore is located used to house a Barnes & Noble — until it closed in 2011. Amazon Books will sell around 6,000 titles, and every book's cover will be prominently displayed; Amazon Books vice-president Jennifer Cast told the Seattle Times, "We realized that we felt sorry for the books that were spine out." Each book will also be accompanied by an online customer review that has been elegantly printed and introduced to the real world. Amazon Books will use its trove of data to decide what books to sell, and the store will feature a Netflixian array of super specific subcategories like "Award Winners, 4.5 Stars & Above, Age 6-12."
There will also be a bunch of staff picks; if you go to the store this week, you'll find a few of CEO Jeff Bezos's favorite books — including one his wife wrote. 
Amazon isn't the only online behemoth thinking about extending its empire beyond the virtual realm. Google also spent a significant amount of resources prepping a space in Soho for the first-ever Google store. However, Crain's New York reports that the company is now subleasing the space. Amazon Books probably isn't interested in expanding to New York, at least for now. Cast told the Seattle Times, "We're completely focused on this bookstore. We hope this is not our only one. But we'll see."