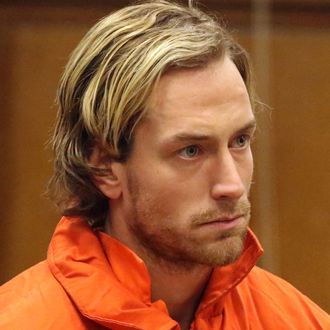 Thomas Gilbert Jr.
Photo: Jefferson Siegel/NY Daily News via Getty Images
The Princeton grad accused of shooting his hedge-funder dad experienced paranoid delusions, according to medical records revealed in a preliminary hearing Tuesday. Thomas Gilbert Jr. told one psychologist in 2012 that he had grown certain that the cast of Saturday Night Live was mocking him on TV, leading him to consider hiring an entertainment lawyer. He was also convinced hackers had compromised his phone and computer to steal intel related to a hedge fund that apparently didn't exist.
During a later meeting with a psychologist in 2013, he claimed cryptically that "police from Princeton were pushing me toward China." After landing at Rikers, Gilbert, according to the Daily News, couldn't seem to comprehend that the prison didn't offer yoga classes. "He really thought he was at this upscale rehab," one jail staffer said.
In September, two separate court-appointed psychologists deemed the "catalogue-model-handsome" prepster "unfit" to stand trial. But the Manhattan district attorney's office had its own expert evaluate Gilbert and found "no symptom" of serious mental illness. In a taped interview during the exam, Gilbert seemed aware of the publicity battle he was losing: "Over the years from what I've seen, the press especially, seems to prey on wealthy, high-profile families," Gilbert said on video. 
A graduate of elite boarding schools, Gilbert was arrested at the beginning of the year for the shooting death of his father, Thomas Gilbert Sr. What police say began as an argument over an allowance decrease ended with Gilbert Sr. dead and Gilbert Jr. fleeing the family's Beekman Place apartment.