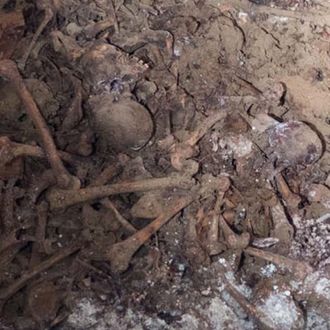 Photo: Department of Design and Construction
Earlier this week, city workers upgrading some water mains uncovered two tombs just three and a half feet below the intersection of Washington Square Park East and Waverly Place. The find was not a total surprise to officials overseeing the project, as part of what is now Washington Square Park is known to have been used as a burial ground during the late 18th and early 19th centuries.
From NBC New York:
One of the roughly 15-by-18-foot crypts was clearly disturbed, with the skeletons and skulls of between nine and 12 people pushed into a corner while more than a dozen stacked wooden coffins can be seen in the second one, said Chrysalis' Alyssa Loorya, the project's principal investigator.
Archaeologists and anthropologists are now examining the site, which has been blocked off. Later they'll attempt to identify the people in the tombs by cross-checking the coffin plates against old newspapers and other records. Meanwhile, the Department of Design and Construction told DNAinfo that engineers will "[re-design] the work to accommodate findings of importance," which means they'll avoid further disturbing the dead, if possible. Either way, watch out for extra ghosts hanging out in Washington Square.