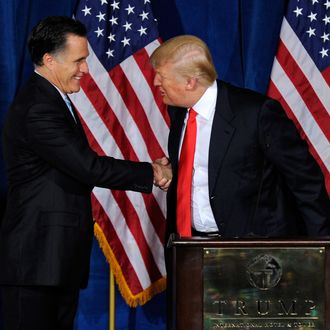 Foreshadowing.
Photo: Ethan Miller/2012 Getty Images
The primaries are right around the corner, and while establishment Republicans once confidently declared that Donald Trump and Ben Carson were mere flings, those predictions have failed to pan out. Now the GOP's thought leaders are starting to sweat, as no matter what outrageous or ignorant things they say, the two rogue party outsiders remain at the head of the pack.
You know what that means: The Mitt Romney 2016 draft-campaign fantasy is back! The Washington Post reports: "Friends have mapped out a strategy for a late entry to pick up delegates and vie for the nomination in a convention fight, according to the Republicans who were briefed on the talks, though Romney has shown no indication of reviving his interest." Dragging Romney kicking and screaming into the race would make this election pretty embarrassing for the GOP, but then, that ship has already sailed.