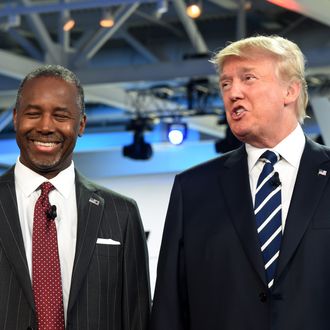 "We're still cool, though, right?"
Photo: ROBYN BECK/AFP/Getty Images
Republican presidential candidate and insinuator-in-chief Donald Trump took a low blow at his opponent Ben Carson on Thursday, comparing his "pathological temper" to the condition of a child molester.
In an interview on CNN's Erin Burnett OutFront, Trump referenced Carson's autobiography, Gifted Hands, in which the neurosurgeon discusses his problems with violence in his youth.
"It's in the book that he's got a pathological temper," he told Burnett. "That's a big problem because you don't cure that … as an example: child molesting. You don't cure these people. You don't cure a child molester. There's no cure for it. Pathological, there's no cure for that."
"I'm not bringing up anything that's not in his book," Trump continued.
Except, there's that whole part where he compares Carson to a pedophile and suggests that the violent behavior of his past is incurable. That's not in the book. In fact, Carson's successful struggle to master his temper is a centerpiece of his life story.
Compounding the chutzpah here is the fact that Trump had previously accused Carson of fabricating the very same stories of violence that Trump now cites as proof of his "pathological" condition. Never mind that depicting a black man as incurably angry is one of the loudest dog whistles of them all.
One of Carson's top aides responded to Thursday's nonsense by saying that Trump "likes Dr. Carson, but … has resentment when he sees Dr. Carson rise."
In the same interview with Burnett, Trump also race-baited Florida senator Marco Rubio, accusing him of supporting "amnesty" for undocumented immigrants on account of his Hispanic heritage. Yesterday, he (of all people) speculated that Democratic front-runner Hillary Clinton was wearing a wig.