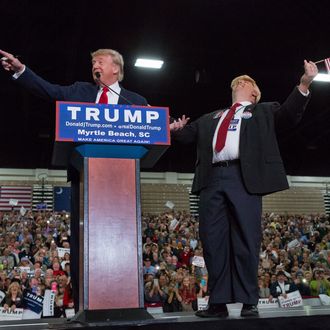 You get a Trump wig! You get a Trump wig! You get a Trump wig!
Photo: Richard Ellis/Corbis
During a rally in Myrtle Beach on Tuesday, Republican presidential front-runner Donald Trump created an incentive for his most devoted fans to turn Trumpian fashion — or lack thereof — into a trend by inviting a man dressed up in a suit and a Rumpelstiltskin-businessman-chic wig, Terry Silliman of Goose Creek, South Carolina, onto the stage. Silliman told CBS News he originally dressed up like Trump for Halloween. "Because I like Donald Trump so much. Pretty cool guy."
"This is what I call a real supporter," Trump told the South Carolina crowd. "Wow. Thank you, man. Are you married?" 
Trump 2.0 pointed at a woman in the crowd. Trump yelled, "Are you happy with your husband?"
"She said yes!" he marveled. "She fantasizes that he's really the real Donald Trump."
The candidate grinned at his joke, and then sent the man, smiling at his luck, offstage.
"That's really nice," Trump concluded. "That's cute."