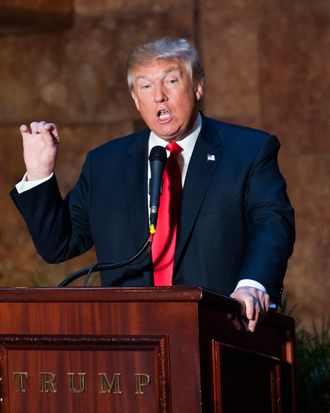 Coming soon to radios in New Hampshire, Iowa, and South Carolina.
Photo: Janet Mayer/Corbis
Donald Trump felt no need to pay for media attention throughout the first five months of his presidential campaign. The former reality star's ability to attract an audience that wouldn't otherwise turn on cable news (or click on an article about politics) has given the news media more than enough incentive to put candidate Trump in their spotlights.
But now that he is slipping behind that drowsy doctor who thinks the Egyptian pyramids were built for grain storage, Trump has decided to buy up some ad time in three early primary states.
Trump seems to be keeping things frugal, opting to promote his message over radio instead of television. One week of radio ads in the Iowa, New Hampshire, and South Carolina markets — the three states in which Trump's spots will air — costs several thousands of dollars, while a week of television ads costs hundreds of thousands, according to the New York Times.
The new ads tout Trump's credentials as a fierce opponent of illegal immigration and a defender of veterans, the New York Daily News reports.
"I'll take care of our veterans and make our military so strong that nobody will mess with us," Trump says in one spot. "I'll secure our borders, and, yes, we will have a wall. You can't have a country without borders."
A second ad sidelines Trump for the voice of one of his female supporters.
"He will make our military so strong no country will ever mess with us. Donald Trump will protect Israel and brutally and quickly cut the head off of ISIS," the woman says, before concluding: "It's time to make America great again. Maybe greater than ever before."