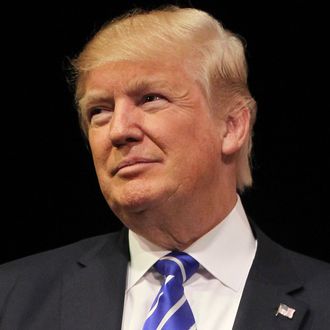 Photo: Isaac Brekken/Getty Images
On Wednesday, Donald Trump wandered into dangerous territory for a man whose coif has been a punch line for at least two decades: He engaged in some speculation about Hillary Clinton's hair.
"Well, she has a new hairdo, did you notice that today?" Trump asked right-wing radio host Mark Levin, who said he thought Clinton was wearing a wig. (Perhaps not coincidentally, longtime fedora devotee Matt Drudge tweeted about "Hillary's wig" several times on Wednesday morning.) "I tell you what, it really was shocking to see it. Because you're right, it must be, it was massive. Her hair became massive," Trump continued. "You know it was interesting to see, but I've never seen Hillary with that hairdo, so I think that's an okay thing to say, but it was very different."
Meanwhile, whatever Trump has atop his scalp remains unchanged.