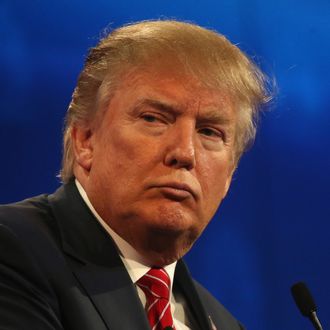 Trump does not think his opponents are capable of making great deals.
Photo: Justin Sullivan/Getty Images/2015 Getty Images
Less than 24 hours after a group of GOP presidential campaigns came up with a list of potential debate demands, Donald Trump, who is not here to make friends, has announced his plans to continue working alone when it comes to making America's debates great again. 
According to the Washington Post, two Trump staffers left the secret GOP debate meeting on Sunday "unconvinced that a cooperative push on the debates would be helpful to protecting Trump's front-runner status or providing him with the most possible air time on primetime stages." Campaign manager Cory Lewandowski added to NPR that the other candidates' attempt at collective bargaining was "not based in reality … We're going to make sure Mr. Trump has his best interests taken care of."
Trump, who wrote the book The Art of the Deal and reminded voters in September that he has "been doing deals for a long time … wonderful deals, great deals," already has a successful track record when it comes to negotiating with networks over debate logistics. He took credit for CNBC's decision to shorten its debate by an hour after he complained about it being too long and boring. As the current front-runner — and as someone well aware of his ability to attract viewers — he also has little interest in making sure his opponents' complaints about speaking time are heard. 
It would be hard to forget how little Trump thinks of the other candidates, as he never fails to remind them every chance he gets. On Monday, he told Bloomberg that Senator Marco Rubio is "highly overrated," adding, "I think I'm better looking than he is. Am I better looking than him?"
The other candidates plan to go on negotiating with or without Trump. 
The next debate will take place next week, so you have plenty of time to buy the requisite snacks to watch the sure-to-be glorious spectacle — and the equally mesmerizing and horrifying preshow that will take place over the next couple of days as the GOP enrolls TV networks in the school for how to make the Republican presidential candidates really, really ridiculously good-looking.
Meanwhile, New Jersey governor Chris Christie just wants everyone to chill out and just answer some stupid questions. "The third debate wasn't awful," he told CNN on Monday. "A lot of the questions were bad, but you know what you learned a lot about those candidates on that stage too – how you can handle going back and forth. The presidency is almost never scripted, so we shouldn't have those debates scripted either."
We'll see if he still agrees when Trump's podium at the next debate is 20 percent bigger than everyone else's and all of the other candidates are forced to suck on a helium balloon before responding to questions — answers that end up frequently punctuated because of the laugh track and "major loser" buttons at Trump's disposal after his negotiations with the networks.