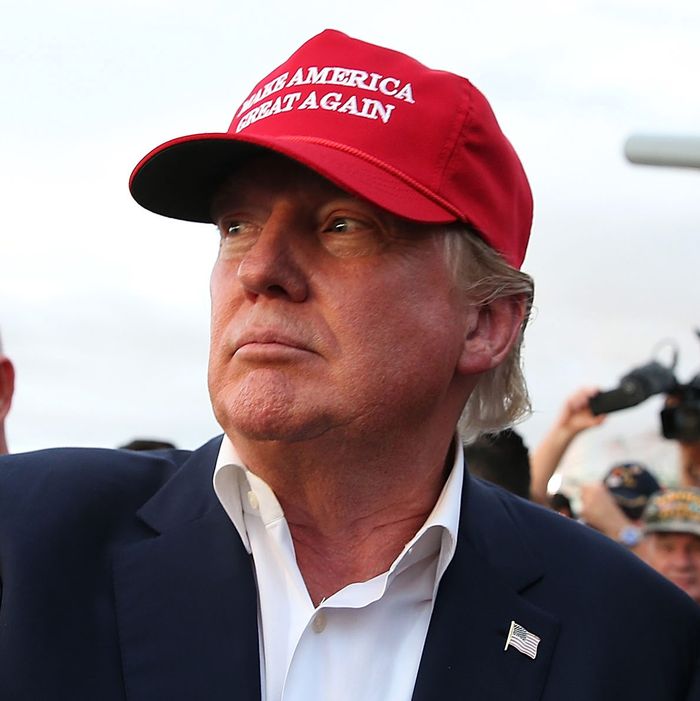 Can't blame a guy for trying.
Photo: Justin Sullivan/Getty Images
Donald Trump's presidential campaign has been built on the argument that his vast wealth ensures that he can't be bought by billionaire donors. Time and again on the stump, he's railed against the moguls pouring millions into his rivals' campaigns. "I wish good luck to all of the Republican candidates that traveled to California to beg for money etc. from the Koch Brothers," Trump tweeted in August during the Kochs' annual summit. Around the same time, Trump told me he turned down an offer from a rich backer who wanted to fund his campaign. "I don't need it, I don't want your money," Trump said he told the unnamed man.
But it turns out Trump was looking for financial help. Earlier tonight, the Times and Politico reported that Trump has aggressively sought support from billionaires Sheldon Adelson, Paul Singer, and the Koch brothers, four of the biggest donors in Republican politics. "He was concerned about them running attack ads against him. And of course he would have taken their money," one of the sources explained.
Over the past couple of days, four sources with knowledge of Trump's outreach described his substantial effort to gain megadonor backing.
Before he got into the race, Trump made overtures to Singer, the founder of the hedge fund Elliott Management and the GOP's biggest donor last year. Trump's emissary was his son-in-law, Jared Kushner. According to a source, Kushner told Trump during a meeting at Trump Tower that he could help broker a meeting with Singer. Kushner, the owner of the New York Observer, indicated to Trump that the paper had been helpful to Singer. Trump told Kushner to make it happen. Kushner emailed Dan Senor, an executive at Elliott Management and a close associate of Singer's, to introduce Trump, according to three sources close to Singer and Trump.
But Singer wasn't interested, and the meeting with Senor never happened. Singer, according to a source familiar with his thinking, doesn't think Trump is conservative and serious enough to be president. Last week, he endorsed frequent Trump target Marco Rubio, writing in a letter: "[Rubio] is ready to be an informed and assertive decision-maker."
(A source close to Kushner confirmed he suggested the meeting to Senor in course of an email exchange, but disputes Kushner wanted Trump to meet Singer.)
After trying and failing to gain Singer's backing, Trump had advisers reach out to Adelson and schedule a meeting. The two men were slated to get together in mid-June in Las Vegas when Trump was planning to be in town to speak at the annual Maverick PAC summit at Adelson's Sands casino. Trump canceled his trip when Adelson backed out of the meeting citing a scheduling conflict, the source said. Trump remained undeterred.
According to sources, he subsequently called and emailed the gambling magnate, asking for his support. One person who saw the email told me it read: "I will be the greatest supporter of Israel!" Adelson was unswayed by Trump's appeals and told Trump he wouldn't support him. "Sheldon basically told Trump he didn't give a shit," a person familiar with the call said. Earlier tonight, the New York Times reported Trump's outreach to Adelson.
A spokesperson for Adelson declined to comment.
Having failed to win Adelson and Singer over, Trump has taken to attacking them. "Sheldon Adelson is looking to give big dollars to Rubio because he feels he can mold him into his perfect little puppet. I agree!" he tweeted last month. Today in New Hampshire, Trump told supporters: "Paul Singer represents amnesty and he represents illegal immigration pouring into the country."
Trump's behind-the-scenes courtship of the party's most generous political donors provides more evidence that, despite his vow to do so, Trump remains reluctant to open his wallet to fully underwrite his own campaign. Just last week, a source said, Trump told an advertising firm that it should work for next to nothing because of the free publicity it would get by producing Trump ads (the firm turned down the offer).
According to two people close to the candidate, Trump sought the backing of Adelson and Singer to prevent them from funding super-pac attack ads against him, reduce the amount he'd have to spend — as well as potentially starving other candidates of their financial support. It's also partly why, a Trump confidante said, Trump hired Corey Lewandowski, a former Koch brothers operative, to be his campaign manager. Trump hoped Lewandowski's ties to the Kochs could give him an in with the free-spending industrialists.
Lewandowski declined to comment.