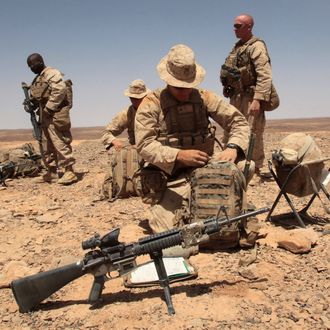 U.S. soldiers prepare their gear during the Eager Lion joint military exercise near the Jordan/Saudi border.
Photo: AFP/Getty Images
Two American contractors were fatally shot after a Jordanian police officer opened fire at a police training center outside of Amman, Jordan. A South African man who also worked at the center was killed. 
Six others were injured in the attack, including two Americans — one is reportedly in serious condition. According to several reports, the gunman, who was reportedly fired from the training center recently, killed himself at the scene. The U.S. embassy in Jordan released a statement saying, "The investigation is on-going and it is premature to speculate on motive at this point," and added, "The Embassy has not changed its security posture."
The attack took place on the tenth anniversary of the 2005 hotel attacks in Jordan — carried out by Al Qaeda suicide bombers — that left dozens of people dead. 
The training center, which is funded by the U.S. and has been in operation since 2003, has trained tens of thousands of police officers, who then go on to serve in Iraq, Libya, and the West Bank. Jordan is an important ally of the U.S. in the Middle East, and the country intensified its anti-ISIS actions this year — although the country has been less active in the fight recently. The Pentagon recently ended a Syrian rebel training program based in Jordan and Turkey after it was successful in training "four or five" soldiers.