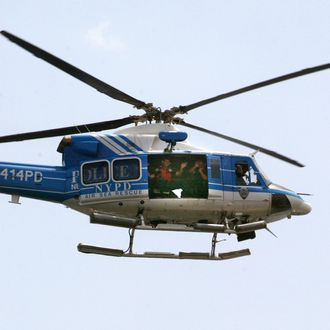 Photo: Mario Tama/Getty Images
Police took two people into custody Wednesday night for allegedly shining a laser pointer at aircraft flying over Brooklyn — because, for some of us, seventh-grade habits die hard.
News helicopters from WCBS2, WNBC 4, and WABC 7 were hit with laser beams, Gothamist reports, and NBC reporter Dennis Protsko said he clearly saw one perpetrator "standing back outside the building with the laser in his hand shooting at us."
It takes a lot of helicopters to find the end of a single laser beam; several helicopters from the NYPD Aviation unit combed the area near Atlantic Terminal in Fort Greene in search of the laser's source, DNAinfo reports, eventually identifying the laser attackers. But the swarm of helicopters had Brooklynites pretty freaked out:
One detainee has been arrested, with charges pending for the other. Their names and ages have not been released, but it won't be too surprising if the perpetrators have long finished middle school. This is one of many recent laser attacks on aircraft: Eleven airplanes were hit by lasers this summer in New Jersey, and in 2012 a pilot was temporarily blinded while landing a commercial jet at JFK airport.