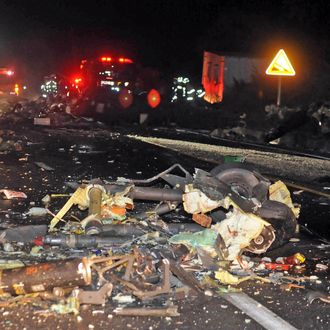 The wreckage of a U.S.AH-64 Apache helicopter is strewn along a road in Wonju, South Korea.
Photo: Park Young-suh/Yonhap via AP
Six U.S. soldiers died Monday evening after two helicopter crashes, one in South Korea, one in Texas. The circumstances behind both crashes have yet to be officially announced at this point. The most recent chopper crash took place near Fort Hood, in Texas, where a UH-60 helicopter with four Army service members onboard crashed during a routine mission. The black hawk wreckage was discovered after an extensive search by military rescue crews. The Army is withholding names until it can ensure families have been notified. 
An AH-64 helicopter crashed in the South Korean city of Wonjo, approximately 80 miles east of Seoul, making the bad day for Army aviation even worse. The Apache helicopter was carrying two U.S. service members, when, according to South Korea's Yonhap news agency, the attack helicopter struck a high-voltage electrical tower before tumbling onto a roadway below. Electrical tower components and power lines were strewn amid the wreckage. "This happened during a routine training mission and sadly did kill both pilots," said a Pentagon spokesman. "The cause is currently under investigation."