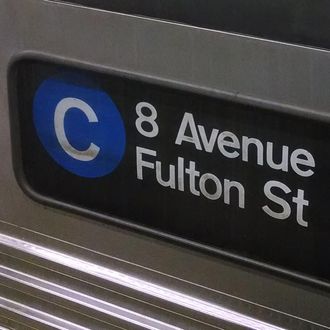 Photo: The All-Nite Images/CC/flickr
An afternoon C train was the scene of New York nightmares after a man allegedly stabbed at least two people with a box cutter on a Manhattan-bound C train on Tuesday, shortly after 3 p.m. The man attacked as the train was pulling into the Ralph Avenue stop in Bedford-Stuyvesant, Brooklyn. The suspect got out and fled at the station, but police have apparently taken a man into custody and recovered the weapon.
The suspect slashed two male victims, 32-year-old Oneal Menendez and 23-year-old Matthew James Ruff, on their heads. Witnesses say the attacker was completely silent before he ambushed the riders, whose wounds aren't considered life-threatening. Both were treated at a local hospital, and one of the injured has been released. 
Police don't yet know what provoked the assault, though right now it appears to be a random attack. Delays — "due to police activity" — plagued the A and C trains throughout Tuesday evening's rush-hour commute. 
This post has been updated throughout.