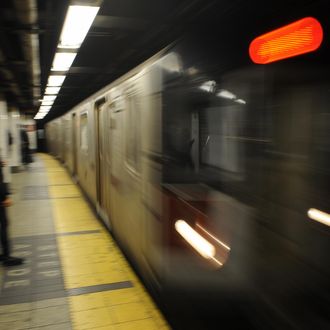 "You couldn't tell who was shooting," said a witness.
Photo: EMMANUEL DUNAND/AFP/Getty
Two men were shot and seriously injured at a subway station in Bedford-Stuyvesant during rush hour on Tuesday night. CBS New York reports that the two men were shot around 5:15 p.m. while descending the stairs into the Utica Avenue A train station. The suspect is believed to be a man in a gray hoodie, who was seen fleeing the scene shortly after the shooting.
Both of the victims were shot multiple times. The first, a 34-year-old man, is in serious condition, and the second, a 27-year-old man, is not expected to survive. Police sources told ABC New York that they believe the shooter was targeting one of the men, and the other was an innocent bystander.
Chaos erupted at the busy station as riders ran from the gunshots. "When I went to the train area I saw a guy lying at the staircase in his blood," said witness Chaka Parker, 35. "The shooter blended in with all of that, you couldn't tell who was shooting." Police have obtained surveillance video from nearby buildings, but the suspect is still at large.