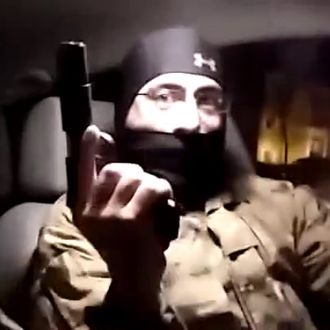 Police have arrested two unnamed men in connection with Monday night's shooting of five Black Lives Matter protesters in Minneapolis. Police have identified the individuals only as a 32-year-old Hispanic man apprehended in South Minneapolis and a 23-year-old white man found in nearby Bloomington. But authorities are still searching for other suspects. Protesters originally reported that a group of three "white supremacists" were involved in the shooting. 
Days before the shooting, two masked men filmed themselves bringing a gun to the protest site, according to a video posted by Black Lives Matter.
Demonstrators saw the pair outside the city's fourth precinct, where they'd been holding nightly protests over the police shooting of 24-year-old Jamar Clark. According to the protesters, after community members questioned these "white supremacists," they left without incident. Later that night, a supporter noticed the threatening video on Livestream and alerted the protesters, Gawker reports. The original Livestream upload has since been deleted, but the footage remains available on BLM Minneapolis's Facebook page.
At present, there is no concrete evidence that the two men, who went by the names SaigaMarine or BlackPowderRanger in the video, were at Monday night's demonstration. Regardless of their involvement, the 90-second video offers some insight into the character of the counter-demonstrators that protesters had been dealing with. In the video, the men encourage viewers to "stay white," refer to black protesters using the obscure racial epithet "dindus," and announce plans to provide the protesters with a little bit of "reverse cultural enrichment." 
Gawker notes that the men also appear to reference /pol/, 4chan's "politically incorrect" message board. On its Facebook page, Black Lives Matter Minneapolis flagged a 4chan thread titled "Chimpout Friday Night," in which several 4channers discussed plans for attending their protests last weekend.